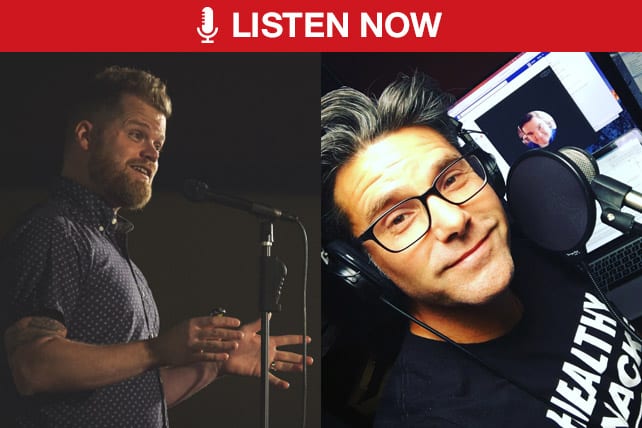 Justin McRoberts is a musician, author, and teacher. Justin has written three books, including Prayer: Forty Days of Practice. He also leads workshops on the creative process. He lives in the Oakland/San Francisco Bay Area with his wife and two children.
Scott Erickson is a touring painter and performance artist who mixes autobiography, biblical narrative, and aesthetics to create art that speaks to our deepest experiences. Scott and his wife, Holly, live in Portland with their three children.
Key Questions for Justin and Scott
– How can we invite people to engage in meaningful spiritual practices?
– Talk to us about the spiritual disciplines that you have found to be effective as ministers.
– How does creativity play into how we communicate the good things of God?
Key Quotes from Justin McRoberts
"Part of what has kept me from having the long term, healthy ongoing conversations about spiritual practice is we tend to narrow down what spiritual practice is into this realm of things that isn't physical, it isn't financial, it isn't sexual, it isn't emotional, it isn't mental, it isn't medical…"
"Compartmentalizing is a way to not face things. I tend to compartmentalize because there's something in my life that I don't want to face. I think it's a defense mechanism."
"You don't really feel, as a pastor, that there are many spaces where you get to be a whole person."
"If you call yourself a pastor or spiritual leader, you don't get to be just another person in the room. That is a thing you sacrifice. It's like being a therapist."
"Sabbath-keeping has been the primary life-giving practice for me."
"Steps for Sabbath: Cease from what is necessary, embrace that which gives life, and then figure out what you want to do."
"How you rest is part of how you lead. How you step away is part of what you communicate to your congregation."
"God is more important that the people in your life. And if you don't get that right, then the people in your life get to suffer."
Key Quotes from Scott Erickson
"What life is is sacred moments and fart jokes."
"I wonder if a lot of people are leaving church because they're actually thinking church is not ever speaking to these other things about their life and so they don't know if God is in all these other aspects of their life."
"One of the reasons you give up praying as you get older is because you don't actually feel like you can be yourself…You think 'these are the ways I have to pray.'"
"If you've been on a spiritual journey long enough, you know that doubt and faith are dance partners. They're not opposing opposites."
"I think a better way of viewing faith is seasonal. Like, you're going to have winter months where it looks like everything's dead, yet things are still working underneath. Spring will come."
"If you don't have a space [as a pastor] to be poor in spirit, that eventually leads to some other kind of outlets of self-sabotage, of medicating through substances, sites, people…"
"When you're preaching, or if you do a lot of services, your body is pumping adrenaline to do all that, so you will have that low the next few days as your body is re-adjusting."
"A function of creativity is it helps us get to that deeper truth."
Mentioned in the Show:
Prayer: Forty Days of Practice
The Moth
Snap Judgment
This American Life
The Enneagram
The Rest of God: Restoring Your Soul by Restoring the Sabbath by Mark Buchanan
Justin McRoberts Instagram, Twitter
JustinMcroberts.com
Scott Erickson Instagram, Twitter
ScottEricksonArt.com
Other Ways to Listen to this Podcast:
► Listen on Apple: https://itunes.apple.com/us/podcast/the-churchleaders-podcast/id988990685?mt=2
► Listen on Stitcher: https://www.stitcher.com/podcast/churchleaders/the-churchleaders-podcast
► Listen on GooglePlay: https://www.stitcher.com/podcast/churchleaders/the-churchleaders-podcast
► Listen on Spotify: https://open.spotify.com/show/3NOo1CepdPQog17rmL7DuT