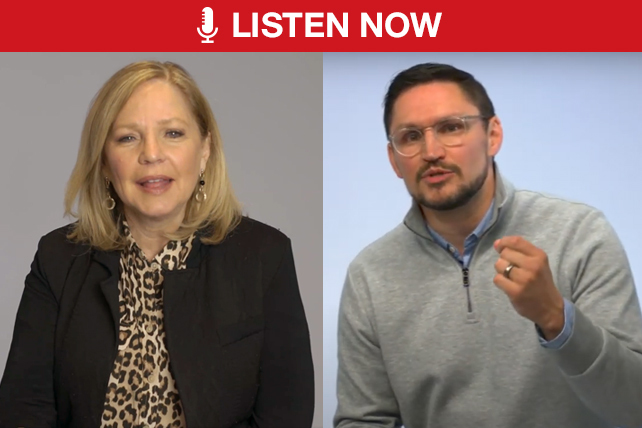 Valerie Bell is the CEO and Matt Markins is the Chief Strategy Officer for Awana, a global leader in child and youth discipleship. Together, they wrote a book entitled, Resilient: Child Discipleship and the Fearless Future of the Church, which explores the three areas it is necessary to focus on in order to help kids develop life-long faith. 
Key Questions for Awana's Valerie Bell and Matt Markins
-What is Awana, and how has it changed over the years?
-How can a church recognize if its curriculum has taken priority over its kids?
-What do some of the elements of discipleship look like every week at a church?
-What are you hoping to accomplish in this next generation of believers?
Key Quotes from Awana's Valerie Bell
"Awana is not just a local club any more. It has grown into a global ministry."
"Today, there are five million children who participate in Awana weekly."
"Our kids [in the U.S.] were becoming screen disciples."
"We found in our studies that church-going children are only actually there 1.7 times a month, which is around 24 hours for a whole year. And we began to look at ourselves and go, 'We're missing the boat.'"
"You don't have to be a Bible scholar. All you have to do is be a leader who can give belonging to a child."
"Bible memory is a part of our model, a really important part of it, and Bible teaching is a really important part of it, but there are these components of the loving, caring adult and the place where kids can come and see faith in action that are also very important and are also part of building this important identity in Christ."
"We want [kids] to love Jesus for the rest of their lives."
"[COVID-19] was an eye-opening experience. And I think a lot of our Awana people, as they reported back to us, the realization was, 'We need to be more present in these kids' lives. We need to know their parents. We need to know the homes that they're coming from.'"
"Childhood is the ideal time for [Scripture memory] to be highly invested in people's lives."
"Don't get stuck in the mire of how terrible the world around you is, but have a dream that's holy and big and one that can wrap its arms around a whole globe full of kids."