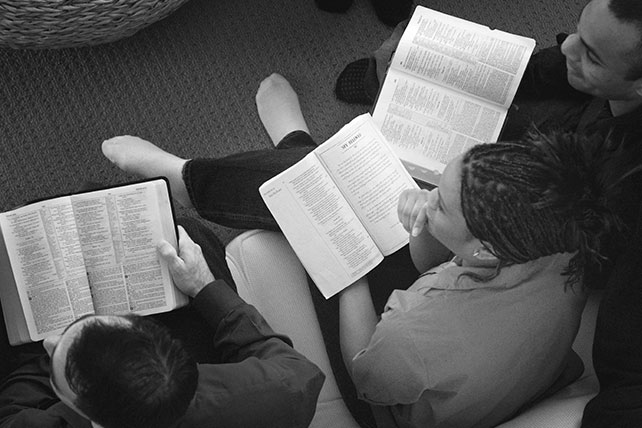 Many pastors are interested in creating their own video-based curriculum. But, they put it on the back burner because they feel the pressure of creating the next Purpose-Driven Life. Let me relieve some pressure for you—that's not going to happen. There is both good and bad news in that statement.
The bad news is that you're probably not in line to write the second bestselling non-fiction book of all time (second only to the Bible). But, the good news is you have content. When you think about your sermon files, digital, analog or otherwise, you are loaded with content. But, how do you repurpose your vast content into curriculum?
1. Pick a Dominate Theme.
What are you passionate about? Look at the recurring themes in your past sermons and series. Do you teach about leadership, relationships, marriage, parenting, spiritual gifts, finances or evangelism? What topics get you the most excited?
Several years back, we were working with a pastor in Bakersfield, California, who wanted to write a book and video-based curriculum on relationships. His small group pastor and his assistant went treasure hunting for past sermons on the theme. They came up with an extra large banker's box full of sermon files. The content was there. Now, it needed to be organized.
2. Choose Six Big Categories Within the Theme.
For a series on relationships, the material could be sorted into "stacks" of topics like Connection, Communication, Conflict, Care…you can come up with two more categories beginning with the letter C. (I was headed toward cucumber and calamari.)
Once the content is sorted, then choose one key verse for each category and a few supplemental verses. I'm old school. I believe a Bible study should be based on the Bible.
If sermons are only available as audio or video files, get the sermons transcribed. A service like rev.com is accurate, efficient and affordable. (It's what I use.)
3. Get to Work on Your Video Scripts.
Take the six categories and their verses and write a 10-minute script on each topic. Since sermons are often 30-45 minutes, then you'll need to dial back the content. Videos longer than 10 minutes tend to become passive and will cause group members to zone out. Keep them engaged by keeping the video short.
After your scripts have been reviewed by the senior pastor, then prepare for your video shoot. Take the production as far as you can go. You can't compete with professional studios, but your pastor on camera is far more meaningful than high production value. Don't try to out Netflix, Netflix. If you need direction in creating video curriculum, curriculum coaching is available. If you prefer to hire a professional full production video team, check out my partners at All In Small Groups. Even if your videographers create amazing video, small group curriculum video is a different genre. It's a bit of a learning curve, but help is available.
One word of advice: If you are planning to launch a New Year's series with your own curriculum, shoot the video in mid-October to mid-November. If you wait until January, it's too late. If your series will launch after Easter, then you should shoot the video in February. If your series is for Fall, then shoot in May/June, before everyone heads off for vacation. Don't wait until August, or you'll be in the weeds.
4. Write the Study.
Once the video is shot, then it's time to write the lessons. I prefer to write after the shoot, because the video doesn't change. Some pastors will want to see the study guide content before the shoot. Do whatever your pastor wants to do, but if you can write after the shoot, it will save you from a rewrite.
You know what curriculum is, so I don't need to explain that. But, as you write in conjunction with the video, don't ask obvious questions. Also, it's a waste of time to ask questions about the main passage, since your pastor explained what the main passage means in the video. Nobody's answer will top the pastor's answer.
Write questions pointed toward how the group members' personal experiences connect with the topic. Focus toward application. Your goal is to hit where the rubber meets the road, not where the rubber meets the air. Include some direct quotes from the video and base questions on these quotes. This will show the tie between the study guide and the videos.
If you need help with curriculum writing, check out the Writing Effective Curriculum Workshop. Professional writing services for creating video scripts and study guides are also available.
5. Designing Your Curriculum.
Before you think about the design, decide on the format(s) for your curriculum. Will you offer printed study guides? Services like CreateSpace/Kindle Direct Publishing offer affordable print-on-demand services. If you use a service like this, download their guidelines and templates to make sure your designer is designing the book correctly. You might also consider your local printer. If your printer doesn't print books, they probably have a relationship with another company who does. Again, begin with the end in mind. Start with the print specs and make sure your designer has these.
If your church has its own graphic designer, then start bringing him or her Starbucks every day starting immediately. Seriously, allow plenty of lead time. Keep in mind, most church graphic designers are overburdened with projects.
If you don't have a graphic designer on staff, consider using a member of your congregation who may volunteer their time. Word to the wise: Look at samples of their work before you agree to let them design your book. If their work is a match, then proceed. If not, then a gentle refusal is in order. Even if you decide to use a member to design your book, only commit to one design project. If the person does great work and is easy to work with, then maybe use them again. If the work is not great or if the person is difficult, then count the cost before you use them again.
This article originally appeared here.