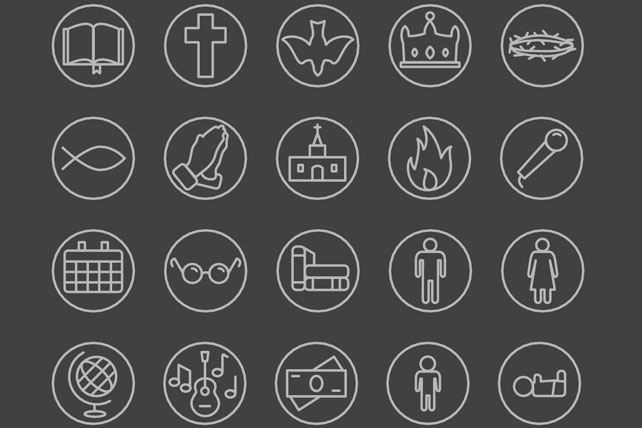 We all know that we're supposed to pray. We have our own prayer "tactics," such as prayer lists, prayer apps, prayer walks, prayer meetings, praying out loud, writing down our prayers, writing down the prayers we say out loud, and saying out loud prayers which have been written down. In spite of all this, I think prayer is THE MOST underrated spiritual discipline.
The simple fact is, I take prayer for granted. I mean, it's "just" prayer. I was taught to pray at a young age and my family always said prayers before dinner and bedtime. My dad would pray before we went on long trips and pray for us when we got sick.
I follow the same rhythms today. I pray when I read my Bible and have my kids pray before we start eating. It's a normal, seemingly mundane thing. There aren't usually any miracles happening after these prayers.
Because Christ has opened the way into the Holy Places, I can pray freely at any time of day. I can pray in the car, as I'm working and while I'm watching my kids. Being able to pray so freely is an incredible, wonderful blessing.
I think, however, that the freeness with which I can pray causes me to take prayer for granted.
Think for a moment of all that takes place when I pray.
But know that the Lord has set apart the godly for himself; the Lord hears when I call to him.(Psalm 4:3)

O Lord, in the morning you hear my voice;in the morning I prepare a sacrifice for you and watch. (Psalm 5:3)
When I pray, the Lord himself, Yahweh, the King of Kings, the commander of the armies of Heaven, hears me! The God who crushed the Egyptian army and humiliated the prophets of Baal, hears when I call to him.
I'm not babbling empty words into a void. I'm not simply talking to myself. This is not the power of positive speaking. When I call, God hears.
I can't overstate how astonishing this is. God truly and really hears when I pray. Why would I not take advantage of this more often? Why do I so often strive in my own strength when the omnipotent One is waiting for me to pray to him?
God Strengthens
O Lord, you hear the desire of the afflicted;you will strengthen their heart; you will incline your ear to do justice to the fatherless and the oppressed,so that man who is of the earth may strike terror no more. (Psalm 10:17-18)
Not only does God hear me when I pray, but he also strengthens me. In the midst of affliction, when I barely have the strength to call out to God, he hears me and strengthens me. He imparts real spiritual, emotional and even physical strength to me.
Prayer connects me to the infinite strength of God.
Again, why would I neglect this? I'm reminded of the hymn that says:
Oh, what peace we often forfeit
Oh, what needless pain we bear
All because we do not carry
Everything to God in prayer
God Blesses
If you then, who are evil, know how to give good gifts to your children, how much more will your Father who is in heaven give good things to those who ask him! (Matthew 7:11)
God is eager to bless me. Just as I am eager to give good gifts to my kids, God is eager to give good gifts to me. When I pray, God unleashes blessings into my life.
I realize that sounds terribly Joel Osteen-ish, but it's not. It's God's word. God will give me good things when I pray to him. He will bless me and pour out his incredible riches into my life.
Over and over in scripture we see God responding to prayer with blessing. When I neglect prayer, I am missing out on unique grace God wants to give me.
God Acts
The prayer of a righteous person has great power as it is working. Elijah was a man with a nature like ours, and he prayed fervently that it might not rain, and for three years and six months it did not rain on the earth. Then he prayed again, and heaven gave rain, and the earth bore its fruit. (James 5:16-18)
This passage is meant to encourage us that God does real, incredible things in response to my prayers. When Elijah prayed, God actually altered weather patterns!
When I pray, God does real, amazing, incredible things. He changes circumstances. He softens hearts. He intervenes with financial provision. He brings reconciliation. Prayer brings the Almighty God into the mundane details of my life.
Given all the astonishing things that happen when I pray, why do I treat prayer so lightly?
Prayer is my great privilege as God's son.
This article originally appeared here.