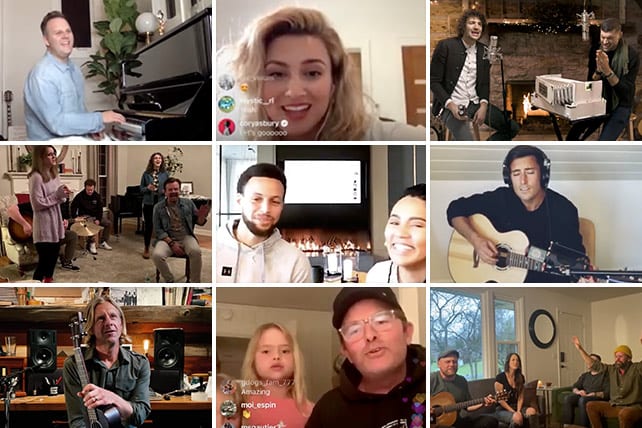 One thing that we all have in common right now is that we are dealing with this worldwide pandemic. We can't escape it, whether we have been exposed to the COVID-19 virus and and are dealing with the effects of it, or we are all social distancing to protect one another from being exposed to it.
Christian Artists Are Quarantined, Too
Most if not all of us have been quarantining for the past month, and most of us have been told it will be at least another month of what is becoming our everyday routine. Our favorite Christian artists have been doing the same even while they would normally be out on the road touring, they are waiting at home until they can get back to their normal as well.
These past couple of weeks many of these artists have been putting on concerts (virtually) or videos to help encourage one another during this season of life.
Popular award winning Christian artists like For King & Country, Phil Whickham, Switchfoot, Rend Collective, MercyMe, Sanctus Real, Matthew West, and Casting Crowns have all taken to the internet from their living rooms (or home studios), performing worship and popular hits to shine light in the uncertain times we are currently living in. Many not only offer encouraging words through their songs, but from God's Word as well. They are reminding us all that our hope is in our Savior Jesus Christ, and not in this world.
Below are a few of these great concerts if you missed them. We hope you can sing along and be encouraged during this time. Remember our great Shepherd never leaves us or forsakes us, and is sovereign over everything.
For King & Country – Together: A Night of Hope
Rend Collective – Socially Distant Worship Club
Matthew West & Family
Casting Crowns – Backyard Concert
Sanctus Real – 10 Year Anniversary 'Pieces of a Real Heart' Album
Tori Kelly – Home & Hallelujah
Tauren Wells – Home & Hallelujah
Chris Tomlin – Home & Hallelujah
MercyMe
Hey Bart! How are you doing? Other than being cooped up in the house?

Posted by MercyMe Music on Tuesday, March 17, 2020
Phil Whickham – Heaven Song
HEAVEN SONG – Songs From Home

Posted by Phil Wickham on Monday, March 30, 2020
Phil Whickham – Way Maker
WAY MAKER – Songs From Home

Posted by Phil Wickham on Wednesday, April 1, 2020
Switchfoot – Live from the Studio (Hello Hurricane)
Switchfoot – Live from the Studio (Vice Verses)
Switchfoot – Live from the Studio (Your Love is a Song)
Watch more from Switchfoot here.
Happy listening!