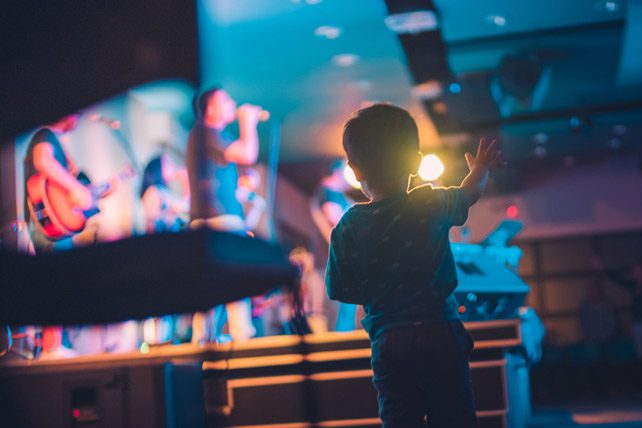 Do you struggle with getting kids to engage during the children's worship time? The boys in the back who you have to force to stand up? The kids that zone out and just stand there? The kids who complain and let you know they don't want to sing?
Don't get discouraged in the quest to see kids worship with a heart of gratitude and adoration for our Savior.
You are not alone. We all face this at times.
When I am not traveling, I serve in the children's ministry at my home church. Last week, I decided to try something different to get more kids involved in worship during the service. I ordered some of these from Oriental trading (if you've been in children's ministry for awhile, you are very familiar with this company.  I often wish I had bought stock in Oriental Trading). I also ordered some inflatable saxophones, drums and tambourines.
When it was time for our worship songs, I brought these out and asked who wanted to worship God by "playing" a musical instrument? I shared this verse with them.
Praise Him with the sound of the trumpet: praise Him with the psaltery and harp. Praise Him with the timbrel and dance: praise Him with stringed instruments and organs. Praise Him upon the loud cymbals: praise Him upon the high sounding cymbals. Let every thing that hath breath praise the LORD. (Psalm 150)

Hands went up all over the room. Even the hands of the kids who never sing and just stand there during worship with a bored look on their face.
I passed out the instruments to some of the kids who wanted to play and had them come up front to worship God by playing an "instrument" to the Lord.
I also shared that this was a "warm up" for many of them who would grow up to lead worship and play instruments in "big" church one day.
Guess what? It worked. Kids who normally just zone out during worship engaged and started singing. Kids, who don't normally do any song motions and just stand there during worship, suddenly got involved. Participation increased dramatically not just with the kids who had an inflatable instrument to play, but with all the kids.
My goal is for these kids to be worshipers now and for the rest of their life. It will be neat to one day see these kids grow up and be playing real guitars, drums, saxophones and more.
If you are frustrated over kids not participating during worship, try this out. You will immediately see more kids get involved in worship and praising Jesus.
P.S. I have some amazing worship songs for kids—written and produced by a gifted friend. Video songs include words, vocals and motions. These are new, original songs that kids love to sing. Check them out at this link.
This article originally appeared here and is used by permission.