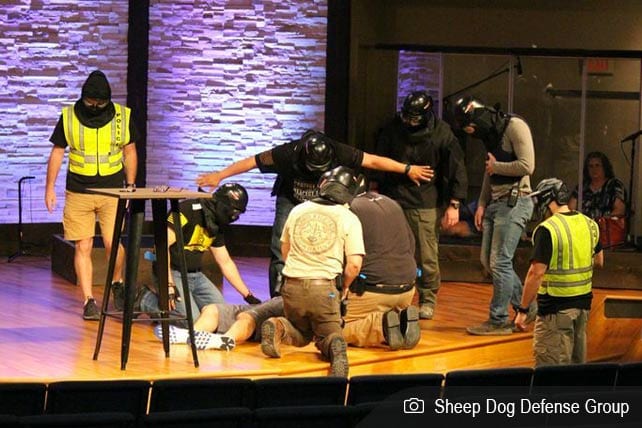 As mass shootings become a disturbing new normal in all types of public venues, more churches are taking steps to safeguard congregants through church security training. During the past decade, a thriving church-security industry has helped houses of worship prepare for mass shootings and other mass-casualty events.
One Texas-based Christian company that's taking an innovative approach to protecting churches has been in the spotlight after multiple shootings in that state. Sheepdog Defense Group trains a church's own members to serve as security volunteers among their "flock."
Turning Sheep Into Sheepdogs (Church Security Training)
Following the 2012 massacre at Connecticut's Sandy Hook Elementary School, Texas police officer David Riggall started conducting firearms training with parents. After earning certification to train security guards, Riggall and a colleague began specializing in church security training. Their Sheepdog Defense Group has now helped almost 100 people at 18 churches become licensed guards.
Sheepdog's training, which incorporates Christian principles, includes 70+ hours of instruction in conflict resolution, self-defense, threat assessment, firearm handling, medical trauma, and local laws. Sheepdog insures and "employs" the guards, who then volunteer as security personnel in their own churches. Those churches, in turn, pay Sheepdog for the service. As one of the company's ads touts: "Security does not have to cost too much if you utilize the talents and abilities of your own people."
Brett Faulkner, who trained to be a "sheepdog" at the Baptist church he attends, says Sheepdog's cost-effectiveness was a deciding factor for that small church. "This is a good balance between the cost of paying professionals and relying on untrained volunteers," he says.
Providing Training Is "a matter of caring"
Faulkner, who also participates in Sheepdog's shooting simulations, says security preparedness "really just comes down to caring about the people in that [church] building." As Sheepdog's Riggall points out, "Sanctuary means a safe place."
After any mass shooting, Riggall says, his company's phone starts ringing. That was especially true after the November 2017 massacre at First Baptist Church Sutherland Springs, when a shooter killed 26 people, including the pastor's daughter.
Doug Walker, founder and pastor of Fellowship of the Parks church in Fort Worth, Texas, says security has concerned him for much longer than that. The reason? In 1999, a gunman killed seven people and then himself at Wedgewood Baptist Church, also in Fort Worth.
Walker's four-campus church recently hired Sheepdog Defense Group to boost its readiness for what used to be the unthinkable. The church, which averages 3,000 worshipers weekly, also requests that off-duty police officers carry their weapons at church events.
Although Fellowship of the Parks permits worshipers to carry concealed weapons, it draws the line at open carrying, asking those individuals to either put away their guns or leave the premises. "If people open carry who are not uniformed, that can be very unsettling," says Walker. "You may not know if that person is a possible shooter or criminal, so we try to balance it."
Security Solutions Vary Among Churches
That balancing act has proven to be especially tricky in churches, which open their doors to the community and teach members to welcome strangers. "You allow people to come in, regardless of where they are in life," says Texas pastor Joe Worley, "but being gracious creates an exposure."
In its mission statement, Sheepdog adheres to the "philosophy that society is full of people who strive to be righteous." Yet the company exists solely because of "wolves" who might threaten the safety of a church's sheep.
Opinions about having guns and on-site security vary widely among pastors and congregants, often depending on the region. Church leaders in rural areas and military towns tend to be more comfortable with having weapons present on Sundays. Others prohibit firearms, saying Christianity teaches non-violence. Or they contend that handguns wouldn't be effective anyway, because most mass shooters rely on assault rifles to inflict maximum damage quickly.