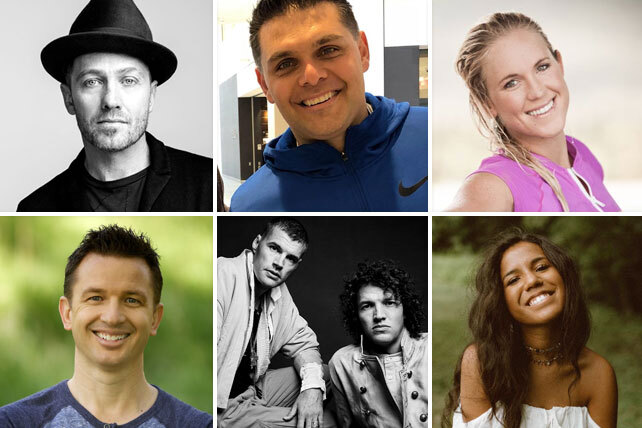 Like so much else that has changed because of the coronavirus, the class of 2020 will not get to experience a normal high school graduation. But Dare2Share founder Greg Stier is teaming up with various Christian leaders, speakers, and artists—including TobyMac—to hold a virtual event called the National Senior Sendoff. Those participating will offer words of encouragement to honor this year's graduating class.
"The Class of 2020 will be the first class prohibited from celebrating the memory-making milestones so many of us have taken for granted," say the organizers in a press release about the event. "High school seniors have waited for these special moments for 12 long years. They've worked hard and overcome many challenges. This is THEIR TIME to celebrate this significant academic accomplishment."
Sending Off the Class of 2020 
Described as "an inspirational virtual event for high school seniors and their families during the pandemic," the National Senior Sendoff will stream online May 28 from 6 p.m. to 7 p.m. MDT. Greg Stier, who is himself the father of a graduating senior, will give a motivational keynote address. He says, "These young people are living out history right now, so they might as well be inspired to go out and make history for the glory of God!"
Joining Stier in putting on the event is interlinc, an organization that helps youth leaders connect their students to quality Christian music, and Faith Christian Academy, where Stier's teens go to school.
"Senior Class of 2020," said the school on Facebook. "We love and appreciate you so much!" 
Gabrielle Odom, a graduating senior and national speaker from Minnetonka, Minnesota, will be giving the senior address. She says, "A global pandemic will not stop us seniors from changing the world for God!"
The National Senior Sendoff will include addresses from different professional athletes, artists, and musicians, such as Joel and Luke Smallbone of For KING & COUNTRY and rapper Peabod. Stier confirmed that David Crowder will be sharing as well and added that the organizers should know soon which professional athletes will be joining. 
Other notable speakers include Bethany Hamilton, a professional surfer whose arm was bitten off in a shark attack when she was 13 years old. Hamilton is the subject of the film Soul Surfer and the documentary Bethany Hamilton: Unstoppable. 
Faith Christian Academy Superintendent Andrew Hasz will also speak, as will Denver Broncos Team Chaplain and former pastor Reza Zadeh.
The event will conclude with a time of prayer that, say the organizers, "will allow the families of seniors to commission them ('send them off') for the mission God has for them." 
"I know the Class of 2020 has looked forward to a prom, spring sports, and graduation," said TobyMac. "Everything's changed. But where there's change and hard times, there is God and he is going to get us through this."
You can watch the National Senior Sendoff here.