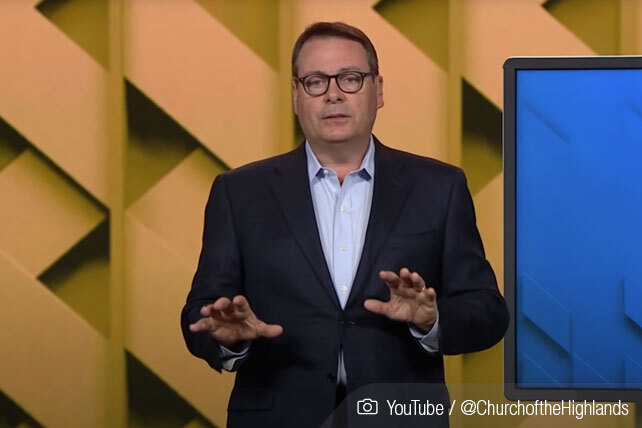 In what may serve as a warning for pastors using social media, the leader of Alabama's largest church is apologizing for liking some controversial posts, and the church is dealing with major backlash. Chris Hodges, founder and senior pastor of Church of the Highlands, with 20 campuses and 60,000 members, is expressing regret for clicking "like" on posts by Turning Point USA founder Charlie Kirk, a conservative speaker who calls white privilege and systemic racism myths.
Since being called out for the online activity, Hodges has made numerous apologies. Meanwhile, a local school board and public housing authority have cut ties with the megachurch.
The Posts in Question Involve Race
Pastor Hodges, an author and member of Evangelicals for Trump, had previously expressed a desire to quit social media because of its "distractions." Yet he was active recently, reportedly liking at least three posts by Kirk: One contrasts photos of President Trump standing with Rosa Parks and Muhammed Ali in the 1980s to Virginia's Democratic governor, Ralph Northam, appearing with men wearing blackface and a KKK outfit. A second features President Obama golfing and a quote from his wife, Michelle, about leaving the house only for essential activities. A third post Hodges liked shows a photo of Kirk donating blood, with a caption about defeating the "Chinese Virus."
Kirk says he's "deeply saddened" at "being slandered by the mob for stating mainstream pieces of widely cited data and public information." He calls Pastor Hodges "a gifted ambassador for Christ" who liked the posts "on his own" and shouldn't have to apologize when "irrefutable facts" are involved. According to Fox News, Kirk had been scheduled to speak to the Church of the Highlands' youth group.
A high school English teacher in Birmingham who called attention to Hodges' social media likes says she isn't "judging" but finds the posts culturally insensitive. "I can't see into Pastor Chris Hodges' heart," says educator Jasmine Faith Clisby. "I'm not saying he's a racist."
Chris Hodges Apologizes, Links Racism to the Devil
During a prayer service on Saturday, Hodges addressed the May 25 death of George Floyd at the hands of Minneapolis police officers, which has sparked protests throughout America and the world. "Racism, bigotry, prejudice exists," he said. "It's real, and it's of the devil. White supremacy or any supremacy other than Christ is of the devil."
In a sermon the next day, Hodges apologized for how his social media activity made people feel and insisted it doesn't reflect his views or the church. "Some saw something on social media that questioned my character, and I'll own it…but that is not what I believe, and it is not what I teach," he said. "I would love for you to not just look at a microscopic zoom-in but look at the totality of 37 years of ministry and 19 years as a church," the pastor added. "It will be abundantly clear that we value every person. For every person that has been marginalized, rejected or belittled, abused or even afraid because of how God made you, [we] stand with you."
On Tuesday, Hodges addressed the issue again, in a letter to congregants. "I can tell you those social media posts that I 'liked' do not reflect, in any way, my true feelings or beliefs," he writes. "I now realize they were hurtful and divisive, and I sincerely apologize…. Please know that I have learned, and will continue to learn, so much from this." The pastor adds that he's become aware of "unconscious bias and privilege" and that the church is planning forums "to listen, learn, and be a part of the solution."
Controversy Costs Church Local Partnerships
In response to the flap, Birmingham's education board voted to terminate leases with Church of the Highlands, which held worship services at two local high schools. The church pays about $288,000 yearly to rent space in the buildings.
Also this week, the Birmingham Housing Authority voted to disallow the church's volunteers to work in public housing communities. The church's Christ Health Center in Woodlawn made headlines in March for offering mass drive-thru testing for COVID-19. The church also offered free mentoring and support groups to public-housing residents. Although Church of the Highlands didn't receive payment for services, it was permitted to have volunteers onsite.