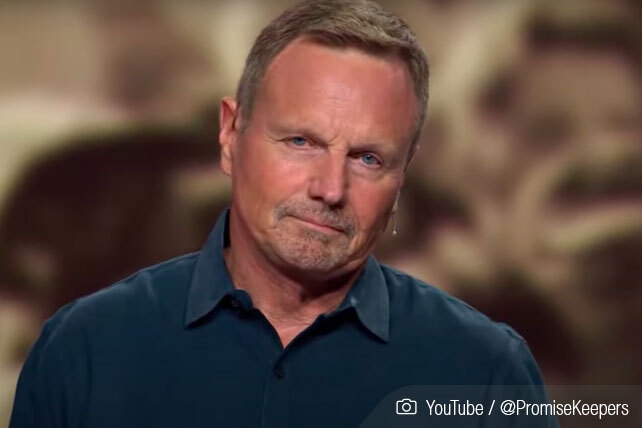 At a virtual conference held by Promise Keepers this weekend, author and speaker Stephen Arterburn challenged men to stop making excuses and to live fully into their callings as men of God. Arterburn shared from his own life how the excuses he once made to look at pornography influenced his decision in college to pressure a woman into getting an abortion.
"On any given Sunday," said Stephen Arterburn, "of us men that are sitting in church, more of us have looked at pornography than have opened God's word to look at his truth." Arterburn believes that if more men cared about God's word and his kingdom than they did about looking at porn, "We'd see the kingdom of heaven here on earth."
Stephen Arterburn: No More Excuses 
Stephen Arterburn is the founder of New Life Ministries and the co-author of Every Man's Battle: Winning the War on Sexual Temptation One Victory at a Time. He was one of several speakers who participated in Promise Keepers' virtual event, which was originally intended to take place at a stadium in the Dallas area. Instead, 500 churches in the U.S. and men from 65 countries joined online to hear from speakers including Dr. Tony Evans, John Eldredge, Luis Palau, Bob Goff, and Mark Batterson. 
Arterburn described his childhood as "a sad, sad growing up" that was shaped by strict legalism and a constant struggle with his weight. He was exposed to porn as a young boy when he would visit his grandfather's office and see the pinups of women that were on the walls. Through that experience, Arterburn learned that women were not equal to men, but were objects to be used.
Later, Arterburn attended Baylor University and after graduating, was asked to speak at the college's chapel. He decided to share that while attending the university, he had gotten a girl pregnant and then paid for her to have an abortion. Arterburn now sees a direct link between the fact that he pursued an abortion and the fact that pornography taught him to see women as objects.
"You see," he told conference viewers, "when you objectify women and some woman gets pregnant, well, it's just an object. It's not a person. And so I just moved, did what I thought you needed to do to get rid of it…But it wasn't an object. It was my baby."
When he used to look at porn, Arterburn would rationalize his behavior by telling himself that he wasn't hurting anybody and that what he was doing was not that bad. "Imagine your standard being 'It's not that bad," said Arterburn. God's standard is Ephesians 5:3, which says, "Among you there must not be even a hint of sexual immorality, or of any kind of impurity, or of greed, because these are improper for God's holy people." But his mindset was what Proverbs 4:12 describes when it says, "There is a way that appears to be right, but in the end it leads to death." 
Pornography not only brings death to the people around the one using it but also harms the person looking at it. "Pornography, it literally neuters a man," said Arterburn. "It doesn't make you more of a man. You can't have sex with a real, live woman after pornography has gotten hold of you."