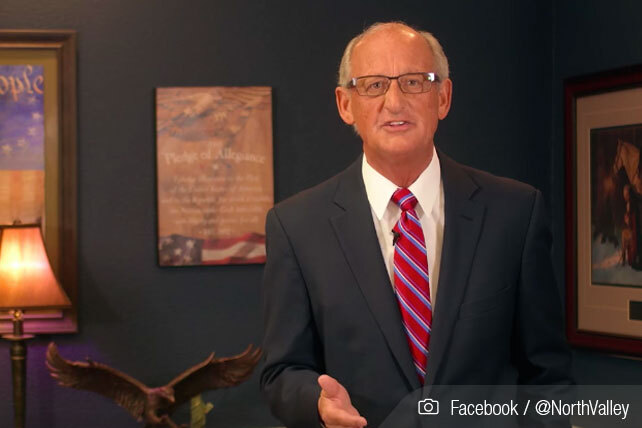 After reportedly receiving over $100,000 in fines and facing a lawsuit, North Valley Baptist Church (NVBC) in Santa Clara, California, has decided to drop its legal battle with Santa Clara County and to worship outside instead of indoors. In a sermon he preached Sunday morning, Dr. Jack Trieber shared with his congregation how God had led him to completely change his position that the county was infringing on NVBC's religious rights.
"After a great deal of prayer, of fasting, of counsel, I have felt led of God not to resist the lawsuit," said Trieber. "There is a battle to fight, but I want to clearly tell you how I know as your pastor God wants me to fight it. Many of you will not agree with my decision. God is going to have to work on that in your heart."
Trieber said that when the county filed the lawsuit against North Valley Baptist Church, he faced a difficult decision regarding the church's future. As he sought God's leading in the situation, Trieber said that God led him to "claim" Exodus 14:14, which says, "The LORD will fight for you; you need only to be still."
"I think perhaps that we have been so conditioned in America that we have to fight everything," said the pastor. But he pointed out that if we examine Scripture, we can see there were many times when God's people were instructed not to act, but to trust in God to fight for them.
North Valley Baptist Church Does an About-Face
Trieber's position is a complete reversal from what it had been since a county public health order banned the church from meeting indoors and Gov. Gavin Newsom prohibited singing during worship. In a video posted to Facebook on Sept. 1, the pastor spoke directly to county leaders, saying they were violating the church's First Amendment rights. 
"The government has done it again. They've ratcheted this thing up," he said, explaining that officials had just posted "more signs" on the church building. The county had leveled a series of fines against NVBC on the grounds that the church was meeting indoors, singing, and not giving the county a protocol. The fines totaled $52,750 at the time. The county also claimed that North Valley Baptist Church was not following safety precautions, something Trieber denied. 
"This is harassment," said Trieber, stating that the county was violating their "constitutional right" and "biblical command" to assemble in worship. He challenged "California preachers" to join together in standing against such opposition if they did not want to see similar situations spread throughout the United States. Other pastors in California have indeed taken a similar stance, most notably John MacArthur, who leads Grace Community Church in Sun Valley.
But on Sept. 13, North Valley Baptist Church moved worship outdoors, holding a drive-in service in its parking lot. During his sermon, Trieber said that God had given him "tremendous peace" and encouragement about the decision. He said he hoped his congregation would experience that peace as well and see that they are in the middle of a "divine appointment."
The pastor said he was "almost positive" that Santa Clara County health director Dr. Sara Cody was watching the service, and he told the attendees, "I want this church to have the attitude toward that lady that God has placed on my heart. According to the Bible, she's a public servant of God. I don't know whether or not she knows the Lord, but I know my responsibility is to love her, to pray for her, and to ask that God would give her wisdom."
This does not mean, said the pastor, that he agrees with everything Cody does. He believes some officials think we can "health" our way out of the pandemic, and they ignore the fact that we need God's help. When Trieber made this statement, the NVBC members responded by honking their car horns enthusiastically. He went on, "But it would break my heart if one person would send her a vicious email, be unkind. That's not your purpose as a Christian." 
The honking in response to that statement was rather feeble, so Trieber said, "I want to try that one more time. That is not your purpose as a Christian." The attendees then responded with more enthusiastic honking. "The load that must be on that lady is to me enormous," said the pastor. "I would not want to be in her shoes." He emphasized that she and the county's attorneys have been "more than gracious" to him. "I thank God for them," he said. "They have treated me with such care. We have been direct with one another."