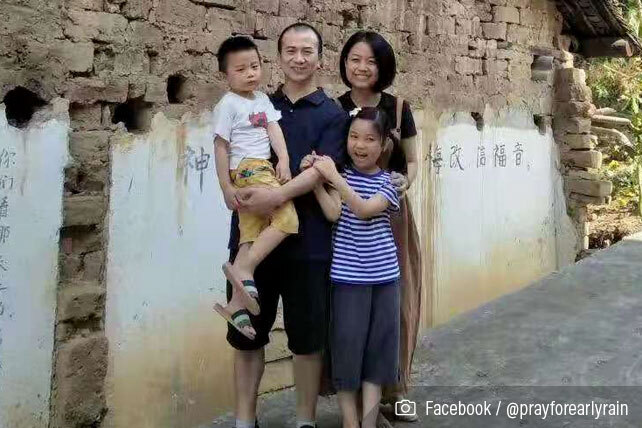 Elder Li Yingqiang, one of the Early Rain Covenant Church (ERCC) leaders who was arrested in December 2018, has just completed his year-long probation and returned to be with ERCC in Chengdu, a city in Sichuan province in China. However, since his return, authorities have begun surveilling and harassing Li and his family, even to the point of threatening to take away their children.
"We came back to Chengdu because we wanted to share in the sufferings of our brothers and sisters and also to share in grace with them," wrote Li in a series of updates shared through the Pray for Early Rain Covenant Church Facebook page. "May our gracious Lord be with us! May he keep our hearts so that we might always trust in him, praise him, and testify of him."
Returning to Suffer with Early Rain Covenant Church
In December 2018, Chinese authorities arrested around 100 members of Early Rain Covenant Church, including Pastor Wang Yi, who, on Dec. 26, 2019, was sentenced to nine years in prison. Elder Qin Derfu was sentenced to four years in prison the month prior to that. While authorities released most of the Early Rain church members after the initial raid, they continued surveilling and persecuting them.
In August 2019, Li completed eight months in criminal detention, after which he was released on bail. International Christian Concern says that during his incarceration, Li's wife, Zhang Xinyue, had no idea where her husband was. After his release, Li and his family were sent to live in his hometown. 
Now that his year-long probation has ended, Li has come back to Chengdu to suffer with Early Rain Covenant Church, and authorities have certainly targeted them since their return. On the evening of Sept. 27, six people with the Chengdu Public Security Bureau came to Li's house and repeatedly told him, "You are not welcome in Chengdu! The Chengdu people do not welcome you!"
"They informed us," said Li, "that they may take a number of measures including but not limited to strictly surveilling us, following us, 'legally' making it uncomfortable for us to live here, 'legally' depriving us of custody of our children, and so forth." The church elder told the authorities that he did not want a fight and that he hoped they would keep the law, not break it. "I told them that we are simply believers in Christ who want to bless the city of Chengdu," he said. "I said that we obey the authorities—even if they break the law, we will still submit to them and are willing to pay the price for our faith."
When they left, officials tore down the "the spring couplets with the Early Rain Covenant Church logo" that were hanging on the door of the family's home. Li's report is consistent with others that ChurchLeaders has heard of Chinese authorities threatening to remove and re-educate the children of Christian families, as well as of authorities forcibly removing Christian imagery from people's homes.
Li then recounted that on that same day, he and his family received a separate visit from eight people who were with the Chengdu Qingyang District Public Security Bureau, the Bureau of Ethnic and Religious Affairs, the Bureau of Education, and the Subdistrict Office. These officials told them that Li's wife had violated the compulsory education law when she refused to send their children to public school while Li was imprisoned, and the officials told the couple they needed to send their children to public school now. Li and his wife told them they would not allow their children to receive an atheist education, to which authorities responded by threatening to remove the children from their parents' guardianship.
Li began his Sept. 28 update saying, "Today, we began to enjoy our 'uncomfortable' life in Chengdu." Authorities followed the family whenever any of the members left the house and would not permit them to have any visitors. After Zhang explained to church members that they were no longer allowed to visit, she said, "May the Lord give me endurance and joy." 
When Li took his children to the park that day, the kids were bothered at first that people were following them, and the children wanted to escape them. The kids felt better, however, after Li encouraged them not to worry and to focus on instead what they were doing. Another couple and their two children met Li and his children at the park, where the kids played together and both families sang hymns and prayed with one another. 
On the morning of Sept. 30, the family attempted to travel via taxi, but the authorities would not allow them to take one, unlike the day before. After unsuccessfully trying to reason with them, Li asked if the officials would let them take a trip by train to another city. At first they were told they could go so long as they rode with their surveillants, but then the man who had granted permission changed his mind. "When the children heard that they couldn't go out, they started to feel sad and even cried," wrote Li. "I was also a little annoyed. Yesterday, when I went out, I took a taxi and they just took a picture of the license plate. Today they won't even let me get a taxi."