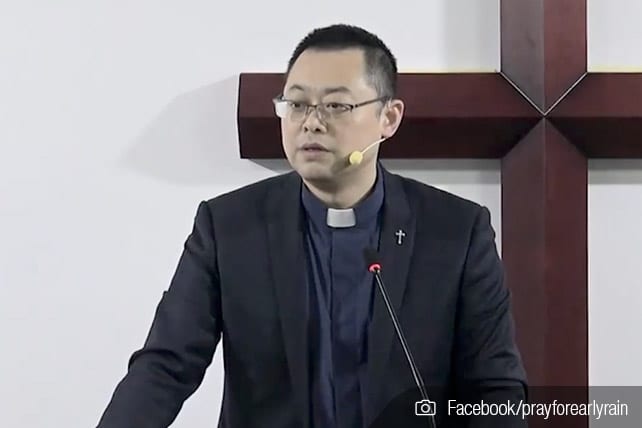 News of Chinese pastor Wang Yi and his secret trial and nine-year prison sentence continues to spark outcry from world leaders and religious-liberty advocates. Wang, the outspoken founder of one of China's largest underground Christian churches, has been detained since a December 2018 raid. The pastor refused to register his 500-member Early Rain Covenant Church with the government, a requirement the Chinese Communist Party put in place to try to control religious practices.
Although China's constitution guarantees "freedom of religious beliefs" for "normal religious activities," oppression and arrests have been escalating against Christians under President Xi Jinping. Western influence is being removed from Bibles, churchgoers are being tracked and turned in, and crosses and church buildings are being destroyed.
Secretary of State: End the 'intensifying oppression'
After Wang was convicted for "inciting subversion of state power" and "illegal business activities," U.S. Secretary of State Mike Pompeo tweeted: "I am alarmed that Pastor Wang Yi, leader of Chengdu's Early Rain house church, was tried in secret and sentenced to nine years in prison on trumped-up charges. Beijing must release him and end its intensifying repression of Christians and members of all other religious groups."
In a statement, the State Department calls the charges against Wang "trumped-up" and demands his "immediate and unconditional release." It notes: "This is yet another example of Beijing's intensification of repression of Chinese Christians and members of other religious groups. We continue to call on Beijing to uphold its international commitments and promises made in its own constitution to promote religious freedom for all individuals, including members of ethnic and religious minorities and those who worship outside of official state-sanctioned institutions."
Peter Stano, spokesman for the European Union, echoes those sentiments, tweeting: "The EU is concerned about restrictions on freedom of religion & belief in China and calls for immediate release of Pastor Wang Yi who was tried in secret & sentenced to 9 years in prison in connection to his peaceful advocacy for #FreedomOfReligion."
Amnesty International also has publicized the case, calling Wang "a prisoner of conscience" and his sentence "appalling and unjust." The goal of Chinese leaders, says Amnesty researcher Patrick Poon, is "to force all churches to register with the officially-sanctioned church so that they can be completely under government control."
Christianity's Growth Threatens Beijing, Say Experts
Scholars say Christianity has been growing rapidly in China, especially in rural areas, and they point to Wang's sentence as one more sign that such growth is making the government nervous.
Willy Lam, adjunct professor at the Chinese University of Hong Kong's Center for China Studies, says underground (or house) churches are "spreading like wildfire" in rural parts of the country. Government officials, he tells Time magazine, "are afraid that more people, including less educated people, are turning to the church for their spiritual needs and not to official nationalism and patriotism."
Purdue University sociology professor Fenggang Yang, director of the Center on Religion and Chinese Society, predicts that China will have more than 247 million Christians, the most of any country in the world, by the year 2030. According to current estimates, mainland China currently has about 116 million Protestant Christians—compared to about 90 million members of the Communist Party.
In China, Christians are mostly Protestant. The government officially recognizes Protestantism, Catholicism, Buddhism, Taoism, and Islam, but reports of cultural genocide and systemic oppression have been emerging throughout the country. For example, millions of Uighurs (a Muslim minority people) are being sent to re-education camps in China.
Pastor Wang's lengthy sentence is being regarded as an example and a warning to other church leaders. In addition to nine years in prison, the pastor is being "stripped of political rights" for three years and had about $7,200 worth of assets seized. Many Early Rain members remain under police surveillance, and in November a church elder was sentenced to four years in prison.
Wang, also a lawyer and constitutional scholar, converted to Christianity in 2005. He has blogged extensively about freedom of conscience, calling the Chinese Communist Party's ideology "morally incompatible with the Christian faith." In 2006, Wang met with President George W. Bush at the White House to discuss religious freedom in China.
Pressure on Christians Is Intensifying, Faith Leaders Warn
On the latest World Watch List from Open Doors, China ranks 27th for its persecution of Christians. Open Doors CEO David Curry warns that China will continue trying to transform churches into "a Chinese church, not a church of Jesus."
Bob Fu, president of ChinaAid, says the "grave sentence" given to Wang proves that Chinese leaders are "the enemy of universal values and religious freedom."
Sang Pu, a commentator in Hong Kong, tells VOA News Wan is "a martyr" and his imprisonment may have a "chilling effect" on some Christians. "But those who really are fighting hard for their own faith, for their own religion, will not bend," Sang adds, saying some worshipers are finding innovative ways to meet in secret.
In an editorial, the Washington Post calls Pastor Wang "a paragon of the noble aspiration that people be allowed to think, speak, worship and assemble freely." It concludes that "China ought to have more faith in people's faith."
On Facebook, which is banned in China, Wang's supporters continue to proclaim his innocence and encourage fellow Christians to persevere "despite repeated setbacks." Before his arrest, Wang wrote a lengthy statement, saying his "disobedience is part of the gospel mission."
Though the pastor says he's "full of disgust and hatred for the [Communist Party's] persecution of the church," he writes that his purpose isn't to change social and political systems. Instead, he aims to help "more Chinese understand that the hope of mankind and society lies only in the redemption of Christ, in the supernatural grace of God."
Wang insists his loyalty lies only with God: "He is my king and…I am his servant," he writes. "I will resist in meekness those who resist God, and I will joyfully violate all laws that violate God's laws." Wang adds: "I am very happy to obey God's arrangement, because his arrangement is always loving and beautiful."