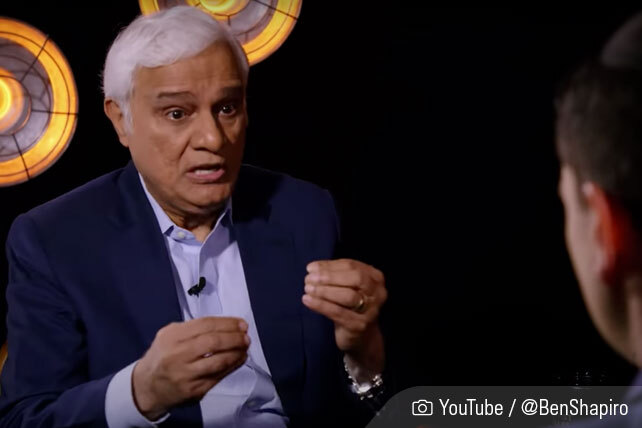 Editor's Note: After the publishing of this article, an independent investigation found allegations implicating Ravi Zacharias of sexual abuse to be credible. Prior to this report, ChurchLeaders had published multiple articles about Ravi Zacharias and his ministry. Although our editorial team believes his work still has value since it involved articulating the truths of God's Word, we would be remiss not to disclose the painful truth of Mr. Zacharias' personal actions that have come to light following his death. For further reading, please see:
Sexting, Spiritual Abuse, Rape: Devastating Full Report on Ravi Zacharias Released
The Story Behind the Ravi Zacharias Allegations (Part 1): Lawsuits, NDAs, and Email Threads
The Story Behind the Ravi Zacharias Allegations (Part 2): 'Cursory' Investigations and More Accusations
---
A letter written by an apologist on staff with Ravi Zacharias International Ministries (RZIM) sheds light on how that organization has handled the allegations of sexual abuse concerning its late founder. Dr. Max Baker-Hytch argues that RZIM should not only apologize to the alleged victims and pay reparations should the allegations prove credible, but that it also needs to rebrand itself and "overhaul" its culture.
Baker-Hytch writes "Ravi has been placed on a pedestal that no person besides Jesus Christ is fit to occupy" and that "unbridled loyalty and reputation management have too often been allowed to take precedence over truth and transparency." Consequently, Baker-Hytch argues "a large amount of trust [in RZIM] has been lost both internally and externally during the crises of the past three years."
Baker-Hytch's five page letter, which was addressed to nine top leaders of RZIM, including CEO Sarah Davis (daughter of the late Zacharias) and President Michael Ramsden, is published in its entirety on reporter Julie Roys' site.
In addition to his work for RZIM, Baker-Hytch is a tutor at Oxford University's Wycliffe Hall, a private evangelical college in the United Kingdom. His letter was leaked by an employee at RZIM to Roys, who has followed the allegations against Zacharias closely and investigated their credibility.
Baker-Hytch takes issue with the way the organization's leaders handled multiple points of controversy surrounding Zacharias, who died of cancer in May. 
The First Complaint: Ravi Zacharias' Credentials
In 2016, Steve Baughman confronted Zacharias and RZIM about his credentials, which were written in such a way they implied Zacharias was a lecturer at Oxford University and that he had earned a doctorate degree (he had, in fact, received an honorary degree). Instead of admitting their mistake and editing Zacharias' biography, Baker-Hytch says the organization dragged its feet until external pressure mounted to do so. Baker-Hytch writes:
When I began looking into the credentials issues for myself, as an academic I was concerned by the apparent discrepancies between the true nature of Ravi's credentials and the way in which those credentials were being presented both by Ravi himself and by the ministry. In many ways, though, the thing that was more troubling to me than the problematic claims themselves was our slowness and reluctance to set the public record straight, which finally happened only after a great amount of external pressure was brought to bear on the issue in late 2017—and even then our public statement on the matter on 3rd December 2017 was defensive and devoid of taking sufficient responsibility for the misrepresentation on our part.
The Second Complaint: 'the Thompson matter'
Lori Anne Thompson brought a complaint against Zacharias, alleging that he gained her trust through friendship and then seduced her into a sexual relationship. The way the scenario was explained to the staff at RZIM, however, was painted very differently according to Baker-Hytch. "If I could summarise why I think so much trust was lost over this, I would point to two things: the shifting narratives given to the team, and the withholding of troubling pieces of information." Baker-Hytch says the team at RZIM was given the narrative that Thompson and her husband, Brad, were "experienced extortionists with a proven track record of such behaviour, and that Ravi had a strong case against them." 
(For more background on the allegations brought by the Thompsons against Zacharias and the problems with how Zacharias and RZIM handled those allegations, check out our two -part article.)
Baker-Hytch goes on to say that leaders at RZIM went further than painting the story in a way that was favorable to Zacharias. Baker-Hytch called into question the truthfulness of what the team at RZIM was told concerning the messages exchanged between Thompson and Zacharias. In December 2017, the team was told that two board members had "read all of the correspondence between Ravi and Lori Anne, specifically including every BlackBerry message, and had declared Ravi to be totally innocent." However, this statement contradicted what Zacharias himself said in a subsequent meeting: "it was made clear by Ravi himself that in fact the BBM correspondence…had been deleted in 2016 and could not be recovered."