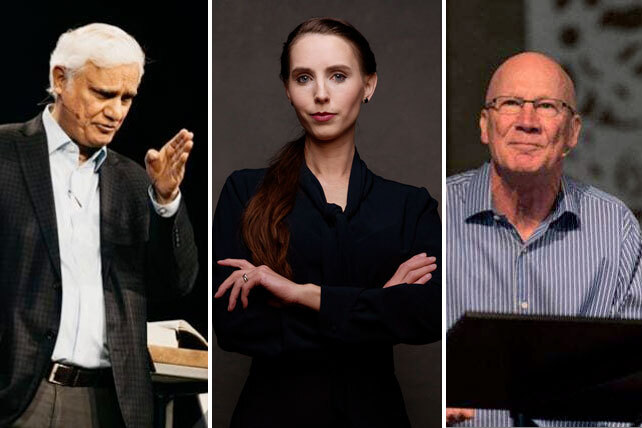 There are obvious lessons evangelicals ought to be learning from the horrific abuse perpetrated by Ravi Zacharias, says victims advocate Rachael Denhollander. And these lessons emphasize the importance of what she has been requesting for some time: an independent investigation into Sovereign Grace Churches. 
"So many of the leaders applauding the step RZIM took today, were silent in urging that this step be taken, and remain silent regarding an organization still co-laboring alongside them or in their communities," wrote Denhollander in a Facebook post on Feb. 12. 
Denhollander was referring to the independent investigation Ravi Zacharias International Ministries (RZIM) commissioned in September of last year. The decision followed multiple new allegations of sexual abuse against Zacharias (the first known accusation dates back to a lawsuit Zacharias settled in 2017). The investigation's findings, which were published Feb. 9, revealed that the initial allegations, shocking as they were, pale in comparison to Zacharias' actual proficiency as a sexual predator. RZIM issued a public apology following the report, but has yet to announce any changes in leadership. RZIM UK has broken with the ministry as a result.  
"Speaking up after the hard work has been done is easy," said Denhollander, who is an attorney known for being the first of more than 400 women to publicly accuse USA gymnastics team doctor Larry Nassar of sexual abuse. "Urging for the right things in our own community, before the facade is unmasked, is costly. And very few leaders are willing to take that step even today."
Rachael Denhollander: Has the Church Really Learned from the Ravi Scandal?
In her statement, Rachael Denhollander listed four lessons from the Ravi Zacharias scandal that ought to be "abundantly clear." First, it ought to be clear that pastors and ministry leaders are not equipped to conduct investigations into allegations of sexual abuse within their ministries. Second, if there are "credible" claims of sexual misconduct within a ministry, "it is usually the tip of the iceberg."
Third, said Denhollander, "Failure to get expert help, or commissioning a poor investigation (as RZIM did in 2017) crushes and silences victims, and leaves abusers in power, while giving a false sense of security." In 2017, Zacharias settled a lawsuit with a woman named Lori Anne Thompson, who said that Zacharias had used his spiritual authority to groom her for a sexual relationship. The apologist's version of events was that Thompson and her husband were trying to extort money from him. The Thompsons signed an NDA at the time, and the executrix of Zacharias' estate has yet to release them from it. 
Denhollander's fourth and final point was that expert investigations "should not be feared," but "welcomed." She said, 
It is for this reason that I have repeatedly recommended that Sovereign Grace Churches, Institute in Basic Life Principles, and several other organizations, welcome this same process, and provided recommendations of ways this can be done without violating principles of church autonomy. The victims are still with us. In many cases alleged perpetrators or those who covered up, are still in leadership. This step should still be taken.
Background on Sovereign Grace Churches
Multiple people have accused Sovereign Grace Churches (SGC) of covering up sexual abuse, and other reports indicate that the church's culture discourages people from reporting it. C.J. Mahaney, one of the church's founders, was one of the church leaders cited in a 2012 lawsuit as allegedly covering up sexual abuse for years. The lawsuit ended up being dismissed because of the statute of limitations. Joshua Harris, who was Mahaney's successor and protegé and who has since renounced his faith, implied in an interview with The Washington Post that concerns over SGC leaders' handling of sexual abuse allegations contributed to him stepping away from the church. 
In 2018, Denhollander publicly called on SGC to launch an independent investigation into the claims of sexual abuse. SGC refused. When the denomination came under scrutiny in 2019 following revelations of abuse within the Southern Baptist Convention, SGC refused again, saying, 
We remain persuaded that an investigation of the sort we've been challenged to authorize—both in good faith and otherwise—is inappropriate, impractical, unjust, and finally would be unsatisfactory to all interested parties. Most importantly, as far as we're able to discern, we believe this course, the theological capitulation it would represent, and the precedent it would set, would ultimately dishonor Christ and harm the cause of the gospel.
In her Feb.12 statement, Denhollander listed three SGC churches that have sent letters calling on SGC leaders to conduct an investigation. One of them, Kings Cross Church, has left SGC since sending its letter. While two of the links in Denhollander's post are broken, you can read the churches' statements here. Denhollander also responded to several reasons SGC has cited for not conducting an independent investigation, among them that 1) such an investigation implies at the outset that the SGC is guilty and 2) such an investigation would violate church autonomy.