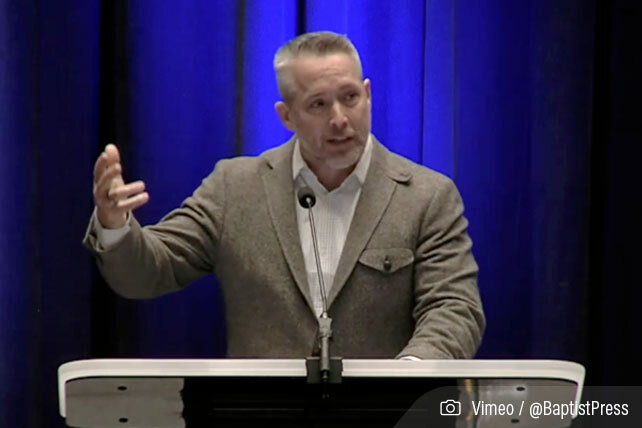 J.D. Greear admonished leaders of the Southern Baptist Convention (SBC) not to let their political leanings or arguments over critical race theory (CRT) distract them from the gospel. Greear said he sees behavior in the SBC similar to that of the Pharisees, whom Jesus harshly rebuked.  
"Let me state this very clearly, as clearly as I can," said Greear in an address to the executive committee of the Southern Baptist Convention. "Critical race theory is an important discussion, and I am all for, as I hope you would be, robust theological discussion about it. For something as important as what biblical justice looks like in the world today, we need careful, robust, Bibles-open-on-our-knees discussion. But we should mourn when closet racists and neo-Confederates feel more at home in our churches than do many of our people of color."
Greear, who is president of the Southern Baptist Convention (SBC) and pastor of The Summit Church, directed much of his concern at how the SBC is engaging with race. But he also warned the denomination against letting politics distract them from the primacy of the gospel. 
"We are not, at our core, a political activism group," he said. "God has not called us to save America. He has called us to build the church and to spread the gospel, and that is our primary mission."
J.D. Greear: We Are Straining Out a Gnat to Swallow a Camel
The Southern Baptist Convention, along with much of evangelicalism, has been roiled with controversy lately over the issue of critical race theory. At the end of last year, the presidents (all of whom are white) of the SBC's six seminaries issued a statement denouncing racism while stating that CRT is "incompatible with the Baptist Faith & Message." Greear supported the statement at the time, although the SBC later apologized for denouncing CRT without consulting any SBC leaders of color.
The statement, however, deeply concerned many Black leaders in the SBC. Rev. Ralph D. West, founder and pastor of Church Without Walls in Houston, Texas, cut ties with the SBC entirely. Dwight McKissic, pastor of Cornerstone Baptist Church in Arlington, Texas, has expressed concerns. McKissic's church remains in the SBC, but has pulled out of one of the conventions with which it was affiliated. Other Black pastors, including Dr. Tony Evans, have said that while they do not embrace CRT in its entirety, they believe that aspects of it can be helpful. 
Prior to the controversy over the seminary presidents' statement, other prominent pastors of color, such as John Onwuchekwa, left the SBC over how the denomination has failed to engage well with racial issues. In his explanation of why he decided to leave the SBC, Onwuchekwa said, "The SBC is not teaching its members to deal effectively with these issues. Its silence is deafening to those of us who feel the effects of this oppression every day. And those people are in my neighborhood. They are in my church. They are my brothers and sisters. They are me."
In his address on Monday, which he called, "Leading in a Crisis," Greear clarified that the crisis he is referring to is not the COVID-19 pandemic. Rather, the crisis is the uncertainty the SBC is facing over the denomination's purpose and identity. While Greear does not believe there needs to be any changes made in the denomination regarding the gospel or its mission, he does believe that there needs to be some serious changes in how the SBC lives out the gospel in its culture. He said, "Gospel doctrine and gospel mission without gospel culture is sterile and weak and, according to Scripture, even deadly." 
The SBC president emphasized at various points that he firmly believes in the core doctrines of the faith, such as the inerrancy of Scripture and the exclusivity of Jesus. In making his points, Greear said he had no interest in surrendering ground to liberalism. He observed that in the past, the SBC has repudiated "the leaven of the liberals," something that was certainly needed at the time. Said Greear, "I believe the question is now, are we going to repudiate the leaven of the Pharisees, which can choke out the gospel just as easily."
In Matthew 23, Jesus chastises the Pharisees, the religious leaders of his day, saying, "You blind guides! You strain out a gnat but swallow a camel." 
What does straining out a gnat and swallowing a camel look like in the SBC today? Greear believes that it looks like the current debates over CRT. He said, "The reality is that if we in the SBC had shown as much sorrow for the painful legacy that racism and discrimination has left in our country as we have passion to decry CRT, we probably wouldn't be in this mess."
It is not as though a conversation about CRT is unimportant, said the pastor. But he believes the SBC is so focused on that debate that it is neglecting what Jesus, again in Matthew 23, called "the more important matters of the law—justice, mercy and faithfulness."