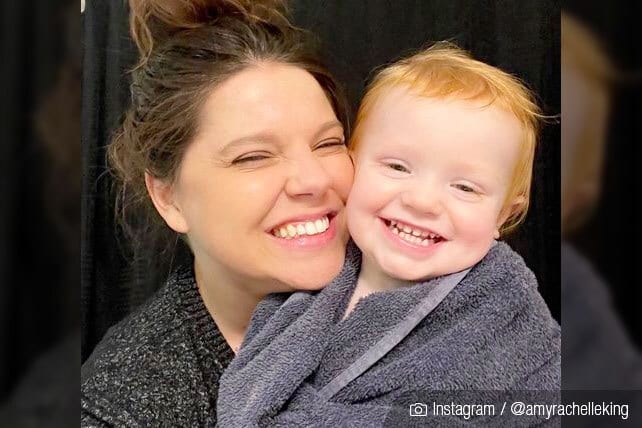 Josh Duggar's cousin, Amy King, recently censored a photo of her son, Daxton, that she had posted on Instagram. While King did not mention Duggar directly, she included a warning to parents to keep predators in mind when posting pictures of their children online, saying she has a "new set of eyes" for such concerns.
"I posted the unedited version," said King of her toddler, "and then I thought to myself is that too much skin? He's just shirtless. 🤔 and then I thought you never know who is seeing this picture and what they are thinking and now I'm going to be extra careful and protect him!" King's current picture shows Daxton in a pool with a blue heart emoji covering his chest. 
View this post on Instagram
"I encourage all parents to be very careful on what we post from now on," said King. "I now have a new set of eyes and I'm more of [sic] aware of how someone can use anything for evil. It's the sad truth, but something worth sharing for sure."
Amy King Speaks Out
Amy King's post was likely a reference to her cousin, Josh Duggar, who was arrested in April and faces felony charges for possessing child pornography. Duggar and his family are famous for being featured on TLC's "19 Kids and Counting," which was cancelled in 2015 after allegations came to light that years beforehand Duggar had molested two of his sisters and three other girls. On June 29, 2021, TLC cancelled the spin-off show "Counting On," which followed the older Duggar children as they navigate adulthood. In a statement, the network said, "TLC feels it is important to give the Duggar family the opportunity to address their situation privately."  
Josh Duggar is currently out on bail pending trial and is staying with family friends LaCount and Maria Reber. Duggar is not allowed to be around any minors, except for his own children while his wife, Anna, is present. Josh and Anna are currently expecting their seventh child together. Duggar's trial had been scheduled for July 6, but was recently pushed back till Nov. 30. Duggar was denied a request for his trial to be pushed back to February 2022.
READ: Twisted Theology Is Protecting a Man Who Enjoys the Torture of Children, Says Rachael Denhollander
King herself appeared on "19 Kids and Counting," where she was portrayed as a rebel—a characterization she now says was harmful and unfair. "Growing up I've never had a police record, I've never done drugs, I've never done anything that would label me as a wild or crazy cousin," King told TODAY Parents in a May interview. "It played with my emotions and then I realized, I'm fine."
King said she is concerned about Josh Duggar's children and observed that Scripture has strong words for those who cause children harm. "There's a Bible verse that says it's better to hang a millstone around your head and jump into the ocean than to hurt one of these precious little ones," she said. "To look at my little guy who is 19 months old, my heart and my brain cannot comprehend that. It blows my mind. It's heartbreaking and disgusting and evil. It's so evil. I want nothing to do with it."
King emphasized her desire for justice to be done, alluding to another Bible passage: "I will just say that whatever you do in the darkness comes out in the light. If you're going to look at such disgusting and sickening images, justice has to be served."