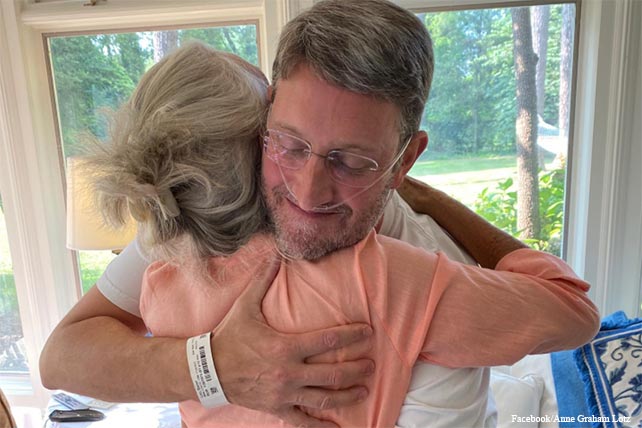 UPDATED August 3, 2021: "PRAISE GOD!" Anne Graham Lotz posted on Facebook updating her followers that her son Johnathan Lotz is now home after an eight-day COVID-19 battle that landed him in the ICU.
Jonathan contracted the Delta variant that led to him developing pneumonia.
"God has heard and answered your prayers for my son," Anne said, before quoting from the Apostle Paul's letter to the church in Philippi: "I thank my God every time I remember you. In all my prayers for you, I always pray with joy because of your partnership…" in prayer …"from the first day until now, being confident of this, that He who has begun a good work…in Jonathan…will carry it on to completion…"
Jonathan's mother asked for continued prayers a for her son's recovery, who is shown in the photo still receiving oxygen. "Blessing upon blessing to each of you who have helped carry him in prayer," she said.
---
UPDATED July 29, 2021: Jonathan Lotz, grandson of the late Rev. Billy Graham, is no longer in the intensive care unit. Lotz' mother, Anne Graham Lotz posted an update on her Facebook page Wednesday with the good news.
"PRAISE GOD!!!" said Anne Graham Lotz. "Praise our prayer-hearing, prayer-answering God! Jonathan has just been moved out of ICU. Now he begins rehab!!" She posted a picture of her mother, Ruth Bell Graham, with Jonathan, saying, "My precious mother taught me the following poem that seems appropriate now." The poem reads:
Trust Him when dark doubts assail thee,
Trust Him when they strength is small.
Trust Him when to simply trust Him is the hardest thing of all.
Trust Him He is ever faithful.
Trust Him for His will is best.
Trust Him for the heart of Jesus is the only place to rest.
Trust Him then through tears and sunshine,
All thy cares upon Him cast.
Till the storms of life are over and the trusting days are past.
"Thank you, thank you for carrying Jonathan on your knees! Please continue to pray he will go from strength to strength with no permanent side effects!" said Anne Graham Lotz, concluding by quoting from Psalm 18:1-3, which says in part:
I love you, LORD, my strength. The LORD is my rock, my fortress and my deliverer; my God is my rock, in whom I take refuge, my shield and the horn of my salvation, my stronghold. I called to the LORD, who is worthy of praise, and I have been saved from my enemies.
---
ChurchLeaders original article written on July 6, 2021, below:
Jonathan Lotz, one of the grandsons of the late evangelist Billy Graham, has been hospitalized in critical condition with COVID-19. Lotz' mother, Anne Graham Lotz, posted on her social media pages asking for prayer for her son. 
"Jonathan is in ICU," said Anne Graham Lotz in a post on Sunday evening. "Genesis 41:52 came to mind when I read the following text Jonathan sent me this morning. He is being fruitful in the land of his affliction: 'I am physically exhausted yet Spiritually overflowing! I am continually pouring over the Psalms of Ascent (120-134) in ICU. I have had the privilege of sharing Jesus with the ER & ICU staff! What a Savior! God is so good!'"
Jonathan Lotz—Placed in the Arms of Jesus
Jonathan Lotz is an ordained minister who has worked for Fellowship of Christian Athletes and the Billy Graham Evangelistic Association. He is now the director of Jonathan Lotz Ministries.  
When Billy Graham passed away in February 2018, Lotz told with the Winston-Salem Journal that he was saved at eight years old after hearing his grandfather share the gospel at a televised crusade. "That night, I asked Jesus to come into my heart and he changed my life," said Lotz. 
Anne Graham Lotz, who herself has a ministry as an author and evangelist, said in a Saturday post, "Fifty years ago I could hold my son in my arms. Now I have placed him in the arms of Jesus." Her brother, Franklin Graham, shared that post on his own Facebook page.
RELATED: Franklin Graham Urges Christians to Get the COVID-19 Vaccine Before It's 'Too Late'
Anne Graham Lotz' Sunday post about her son continues:
Please be encouraged that God is hearing and answering your prayers—just please don't let up. Pray he will not have to go on a ventilator, that his oxygen levels would increase, that his lungs will be strengthened, healed and that his health will be fully restored—with no long term complications. My heart is filled with gratitude for your prayers.