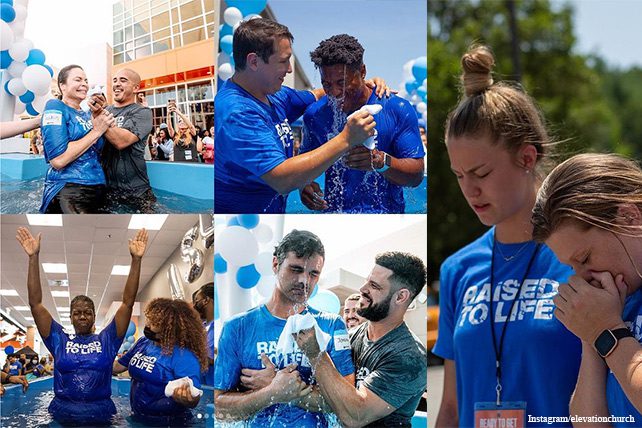 Elevation Church, located in Matthews, North Carolina, posted on social media celebrating the baptisms of 589 people on Sunday, August 8, 2021.
The megachurch has over 20 campuses and sees an estimated weekly attendance of around 25,000 people. Elevation Church, pastored by Steven and Holly Furtick, wrote: "What a day. 589 people stepped forward in faith to be baptized across all of our campuses this morning, proclaiming Jesus as their Savior. We are so grateful for what God is doing through you, church! We will not take this for granted."
On Saturday, Elevation Church's Instagram page promoted its "Raised To Life" baptism weekend, explaining that every campus would be participating.
Earlier in the week, the church shared the meaning of baptism, telling followers it's a "Public declaration of an inward decision to follow Jesus Christ as your Savior. Being submerged in water represents being made a new creation in Jesus, cleansed and whole, not in spite of your imperfections, but because of them."
The social media post also informed those who do not attend a physical location that on September 11, 2021, they'd be celebrating baptisms in California, Colorado, Florida, New Mexico, Ohio, Tennessee, and Virginia. Those interested in more information were asked to contact the church by email.
Related Article: TN Church Sees Over 1,000 Baptisms in Four Months–'Prayer Births Revival'
In the posted baptism video, Steven Furtick said, "When you go down in that water, I want you to know that you can die to the old. When you come up out of the water, you're raised to walk in the newness of life."
One person after another can be seen entering a tank of water, professing Jesus Christ as  Savior, and being baptized by pastor Furtick. In one touching moment at the end of the 30-minute video, a person who needed assistance getting in and out of the water because of a medical condition fearlessly obeys Jesus by getting baptized.
One testimony about a Christian man who was baptized at the Elevation Ballantyne campus read: "Chris was in a lonely place. Feeling purposeless and not knowing how to change, he thought he'd give church a try and started watching Elevation online. The messages helped Chris understand God's love for him in his head and feel God's love for him in his heart, and Chris accepted Jesus as his Savior! He's been part of our church family for a while now at Elevation Ballantyne, where a few months ago he started serving on the volunteer team that sets up the baptism tank. It was through this that Chris realized he wanted to take that step of faith for himself…We're so happy for what God is doing through you, Chris, and believing the best is yet to come."
Elevation Church's Baptism Preparation
Elevation Church shared the amount of prayer that goes into their baptisms, thanking the baptism teams and letting them know they how much they are appreciated.
Related article: The Best of ChurchLeaders: Steven Furtick on How to Handle Growth and Criticism
"Behind every baptism in our church is a team of volunteers who take utmost care to ensure each person taking the step of faith to be baptized is supported and feels loved," Elevation Church's message said. "Praying, preparing the tank, being an extra hand at the steps, and being by someone's side every step of the way as they celebrate this milestone of faith are just a few of the many things they do.