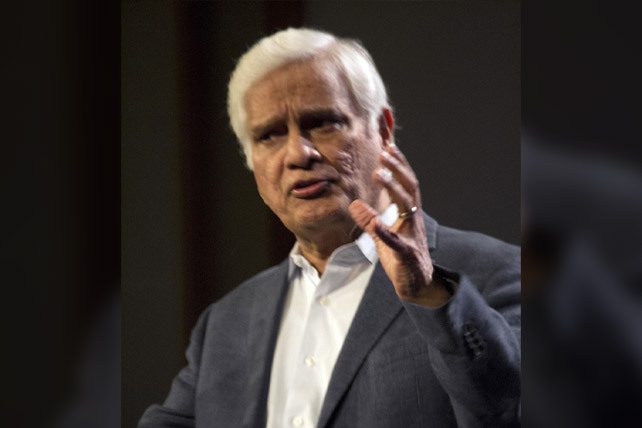 A judge is allowing a class-action lawsuit filed against Ravi Zacharias International Ministries (RZIM) to proceed. Margie Zacharias, the late Ravi Zacharias' widow, was dismissed as a defendant, and her and RZIM's motions to dismiss the suit were granted only in part, in a ruling filed May 13, 2022. 
RZIM Case Will Continue
A class-action lawsuit filed in the U.S. District Court for the Northern District of Georgia on August 4, 2021, claims that RZIM "bilked tens — if not hundreds — of millions of dollars from well-meaning donors who believed RZIM and Zacharias to be faith-filled Christian leaders." RZIM, Inc., RZIM Productions, Inc., and Margie Zacharias, were named as defendants in the complaint.
Dora and Derek Carrier, two of the plaintiffs named in the suit, say that they donated $30,000 to RZIM in January 2020 after having come to believe in RZIM's mission. Derek Carrier is a tight end for the Las Vegas Raiders. 
Court documents say, "According to the Complaint, though, Zacharias 'was not who he claimed to be' but was instead 'a serial sexual and spiritual predator and a prolific sex offender' since at least October 2014.'" 
In February 2021, law firm Miller & Martin released a bombshell report showing that Zacharias, a beloved apologist for Christianity, had encounters with multiple women in multiple countries, which included sexting, unwanted touching, spiritual abuse, and in one case, rape. For more information on the events leading up to the report, see the articles below: 
The Story Behind the Ravi Zacharias Allegations (Part 1): Lawsuits, NDAs, and Email Threads
The Story Behind the Ravi Zacharias Allegations (Part 2): 'Cursory' Investigations and More Accusations
The class identified in the suit includes "[a]ll persons in the United States who made contributions of monetary value to Ravi Zacharias and/or the Ravi Zacharias International Ministry from 2004 through February 9, 2021."
In their complaint, the plaintiffs say that "[a]t no point prior to February 2021 did anyone at RZIM inform [them] that contributed funds were also used to further serious sexual misconduct or to cover up that misconduct." Had they known of Zacharias' misconduct, they would not have continued their donations to Ravi Zacharias International Ministries .
In February 2022, a report from Guidepost Solutions revealed that Ravi Zacharias International Ministries spent donor money to sue an abuse survivor.