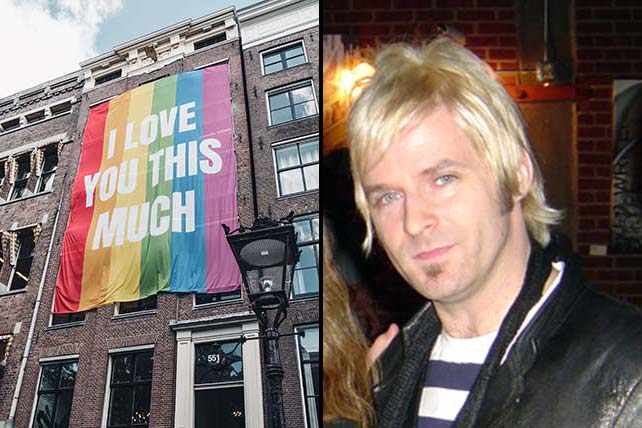 Kevin Max Smith of Christian music's iconic group DC Talk expressed support for Pride month on Twitter last week, publicly affirming his and his wife's support for their daughter, who is gay.
Pride month is a celebration of the LGBTQ+ community held every June as a tribute to those who were involved in the Stonewall Riots of June 1969.
President Bill Clinton officially recognized "Gay & Lesbian Pride Month" in 1999 and 2000. That tradition was picked back up by President Barack Obama, who recognized June as "LGBT Pride Month" throughout his presidency from 2009 to 2016. After four years of it not being nationally recognized—except for a minor social media post by President Donald Trump in 2019—President Joe Biden announced June as LGBTQ+ Pride Month in 2021 during his first year in office.
RELATED: DC Talk's Kevin Max Says He's Been Deconstructing His Faith for Decades
Kevin Max (Audio Adrenaline, Sad Astronauts) is a Christian music icon who became popular during the successful 12-year run of DC Talk, which was also fronted by TobyMac and Michael Tait (Newsboys, Tait). Their success made them pioneers in Christian music, pushing the boundaries of what were then considered edgy sounds in the genre.
DC Talk collected 4 Grammy Awards and over 15 Dove Awards. Although the band hasn't put an album out since 1998, they technically haven't officially disbanded. While the three superstars have focused on their solo careers and other bands since 2000, DC Talk reunited for two themed cruises in 2017 and 2019. The band was rumored to announce a reunion tour in 2020, but that never came to pass because of the COVID-19 pandemic.
Max, who has often referred to himself as the "black sheep" of the band, has never been shy about what he's thinking or feeling, especially when it comes to his faith.
Last spring, Max confirmed that he has been "deconstructing, reconstructing, progressing" his Christian faith for years. "I still follow the Universal Christ…I have no idea how many people's blogs or podcasts are using that announcement for further division, but I'm here for The Grace," he tweeted.
RELATED: 'The Jesus Music' Explains the History of Christian Music, Church Resistance, and Why DC Talk Split
Kevin Max calls himself an exvangelical, a term used by those who have left the evangelical movement, and has said, "I don't think the God that I believe in is just all the sudden going to ignore me because I don't believe every single thing that's written down somewhere."
This past Wednesday, Max shared that his daughter is gay while showing support for Pride Month, tweeting to his 28,300 followers, "My daughter is gay and my wife and I are proud to volunteer for this years @franklinpridetn@PFLAGNashville to support her and so many wonderful people in our community." The singer ended his post with the hashtags #pridemonth2022 and #PRIDE.
RELATED: Did Amy Grant Affirm the LGBTQ Community on Apple Music's Proud Radio?