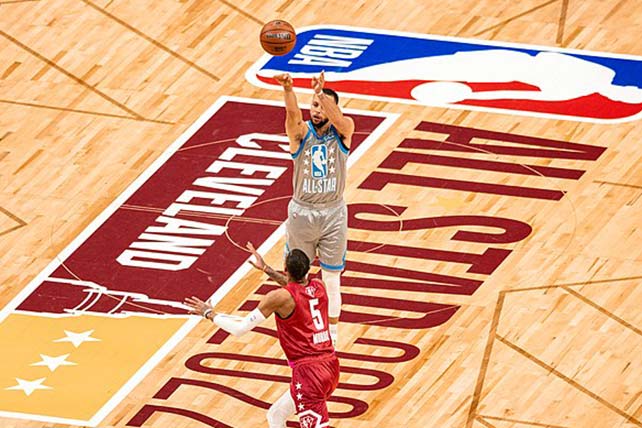 Steph Curry, All Star point guard for the Golden State Warriors, recently shared with Fatherly (a digital media outlet for dads) how his parents helped shape his faith by reading the Bible to him when he was younger.
"My parents read a lot of Bible stories with me," Curry shared, going on to express that this is why he now reads the Bible to his own children. "That's how I learned my faith, so those are very meaningful to me to share with my kids."
Curry was being interviewed for his new children's book titled "I Have a Superpower," a picture book about an 8-year-old named Hughes who loves playing basketball and works hard to achieve his goals.
RELATED: 'God Is Great': NBA Finals MVP Steph Curry Gives Glory to God After Golden State Warriors Win Championship
The two-time NBA MVP and four-time NBA Champion said that, outside of the Bible, he hasn't felt passionate about sharing any specific book from his childhood with his three children.
"There wasn't a specific series or book that I had lined up to share with my kids," Curry said. "I tried to be open to what they were interested in. They're old enough now that I take their lead. They come home with 'Dork Diaries' and that type of stuff. I just love the fact that they are reading to me now. They're the storytellers, and I'm the audience, and that makes bedtime more fun."
The NBA superstar shared how he stays connected to his family while he is traveling and misses out on everyday opportunities like carpooling, sports practices, and other family activities. Curry said that he focuses on his family during the off-season and explained that "the beauty of [things like carpooling] is that you come to appreciate all the little things that seem kind of mundane or routine."
RELATED: Why Are People Fine With Steph Curry's Faith but 'Hate' Tim Tebow's? Ray Comfort Answers
Curry said, "My dad traveled a lot during his 16 years in the NBA, and I don't know how my parents did it back in the day without technology." Curry cited his appreciation for FaceTime, which helps him stay connected to his family while he's away.
Throughout his career, Curry has been vocal about his faith in Christ and gives credit to God for what he gets to do. After Curry and his Warrior teammates won the NBA championship this past June, the Finals MVP told reporters, "I thank God every day that I get to play this game at the highest level with some amazing people."