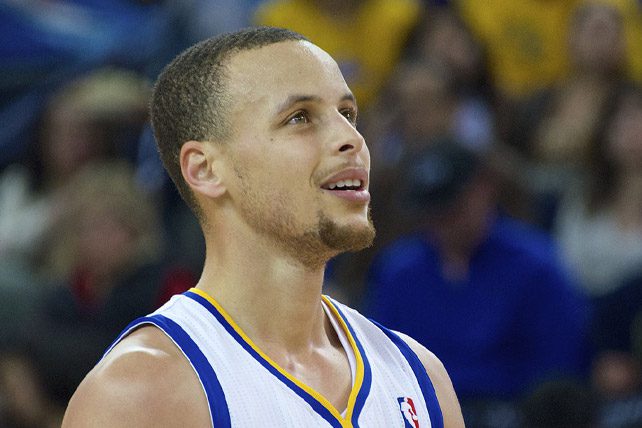 On Tuesday, December 14 with 7:33 remaining in the first quarter of the team's game against the New York Knicks, Golden State Warriors incomparable point guard Steph Curry broke Ray Allen's all-time 3-point field goal record of 2,973.
A video of his historic accomplishment is shown below:
Statistics
To understand the impact of this record on the game of basketball, consider the following provided by the daily sports newsletter Sideline Sprint:
In 2009, the number of three-point shots attempted league wide was 44,583 (22% of all shots).  In 2020, the number shot to 74, 822 (39% of all shots).
Steph has the most games with 9+ threes in NBA history (40). The rest of the NBA combined has 39.
Steph has averaged 5+ threes per game in a season four times. The rest of the NBA has never done that — even James Harden maxed out at 4.8.
It took Steph 789 games to break Ray Allen's record, which took Allen 1,300 games to set.
Inspiration
But more than his impact on the game, Curry inspires everyone who has ever felt under-sized, unappreciated, overlooked, and marginalized to achieve great things and not settle for less anymore.
Steph's father Dell said, ""In Chicago the other day, I saw LaVar Ball at the game wearing a hat that said: 'I Told You So.' Well, my hat would say: 'I Had No Idea.'" No one did. Steph was a 3-star recruit, considered the #52 high school point guard in the country, and attended Davidson after being turned down by all the top college programs.
But Curry harnessed his inner-drive, high-character, hard work, focus, repetition, and a positive attitude into developing an elite skill — shooting a basketball. And he did so at a level no one had ever done before. As shown in the video above, Curry would become the greatest shooter in basketball history.
Our Opportunity
The lesson for all of us is that while we may not become the greatest shooter of all-time, we can still accomplish great things in our lives as well. And don't ever let anyone tell you that you can't.
Others may dismiss us because of our background, education, appearance, ethnicity, or some other subjective parameter. In fact, we may even dismiss ourselves.  But when we are people of high-character with a positive attitude, work hard, focus our efforts, and do it consistently over a long period of time, we too can accomplish great things.
Steph Curry has given countless people permission to not accept a sub-standard life anymore. We too can achieve great things and are without excuse. There is nothing stopping us — just our own decision to listen to the naysayers and not consistently put in the work and seize the day.
This article originally appeared here and is used by permission.