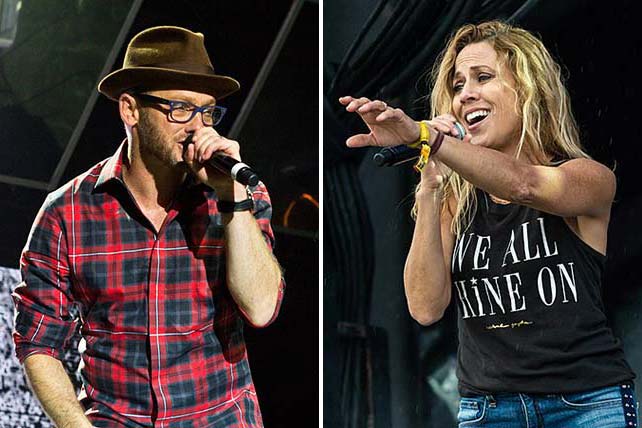 On Friday (January 7), three time Grammy Award winning Christian artist TobyMac (Toby McKeehan) dropped a surprise collaboration with nine time Grammy Award winning artist Sheryl Crow.
McKeehan and Crow joined forces on his newest hit single "Promised Land," which was originally released on September 17, 2021.
The newest single includes two versions of the collaborated song. One version was produced by Paul Mabury (Lauren Daigle, Needtobreathe, Jamie Grace), TobyMac, and Micah Kuiper (Newsboys, Audio Adrenaline, Hawk Nelson); the other version was produced by TobyMac and Kuiper.
While the new versions of "Promised Land" hold a similar structure to the original version, Crow's recognizable melodic vocals complement and enhance McKeehan's sound. The artists also added a more "Sheryl Crow type of sound" by including some slide guitar and different harmonies throughout the song.
The song was written by McKeehan and his good friend and former Audio Adrenaline 2.0 frontman, Adam Agee.
"Never would have dreamed that @sherylcrow would sing a song I wrote. And she absolutely crushes it," Agee wrote on Twitter. "Thanks @tobymac for making this song what it is and congrats on this collab!!!"
"I think if we're honest, every one of us has wondered at one time or another, 'Where's my promised land? Where's the blessing for me and my family that I thought would come my way on this earth if I chose to follow the King of Kings,'" McKeehan said in a video explaining the meaning behind "Promised Land."
Then McKeehan asked, "Is that really the promise of the promised land?"
"I know that with everything we're walking through these days, man, you might be wondering—where's the promised land," said the father who recently lost his first born son to an accidental overdose. "Can we find a promised land on earth or is it eternity? Can we find it in our pain and valleys and maybe even our beautiful days?"
McKeehan shared that one lyric he wrote is exactly where he wants his life to land, saying, "It's that our promised land is really no land at all, but a relationship with the King that loves us deeply."
"It turns from where's my promised land, to You're my promised land. Maybe the promised land we're looking for isn't a place at all but a person named Jesus," McKeehan went on to say.