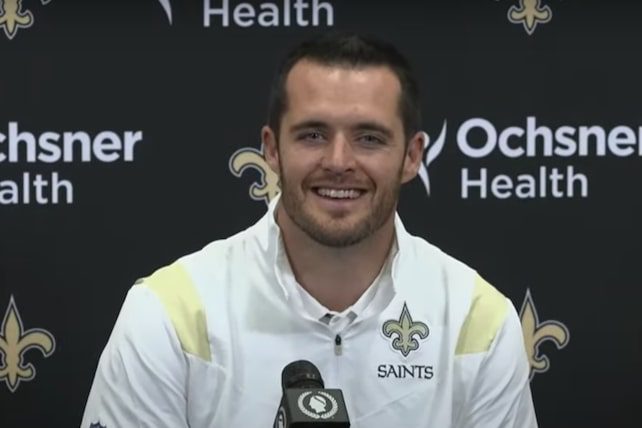 At his introductory press conference with the New Orleans Saints on Saturday, veteran quarterback Derek Carr reiterated the importance of his faith and his desire to love and serve. Speaking to reporters March 11, Carr also opened up about his rocky split with the Las Vegas Raiders and his excitement about landing in the Crescent City.
Carr, a four-time Pro Bowler, spent nine seasons with the Raiders, who wanted to trade him to the Saints last month. Because Carr had a no-trade contract clause and had never been a free agent before, he balked when the Raiders let him speak to only one team.
But after the Raiders released him, Carr was so impressed by the Saints' interest in him that he inked a four-year deal, worth a reported $150 million. He also praises the organization's honesty, noting, "They didn't try to make anything seem like it wasn't."
Derek Carr: 'My Faith Is Number One'
While speaking at a Las Vegas church in January, Carr said he tries to avoid placing blame amid his complex exit from the Raiders. Instead, he wants to focus on forgiveness and peace. During his New Orleans press conference, Carr, 31, expressed "love and respect" for Raiders leadership.
He also pledged to give back to his new community. "We just try and always be open to that and what the Lord is saying to us on how to help," Carr said about his service goals. "My faith is number one," he added about his priorities. "That'll never change no matter what, good or bad. And then my family and then football. And I love all three a lot."
Carr's family factored into his career move too. Although he sensed "so much love" in New Orleans, he wanted to be able to talk to more teams before inking a deal. "At the end of the day," he said, "I wanted to be able to look my kids in the eye, look my wife in the eye, and know that I did everything in my power, I asked every question, I went through every process to make sure I tried to make the best decision for our family, for us together."
Faith Factors Into Derek Carr's Entire Life
As ChurchLeaders has reported, Carr grew up in a Christian home and solidified his faith in college, largely thanks to his wife, Heather. The father of four almost entered ministry full-time but says being in the NFL allows him to both preach and pray.