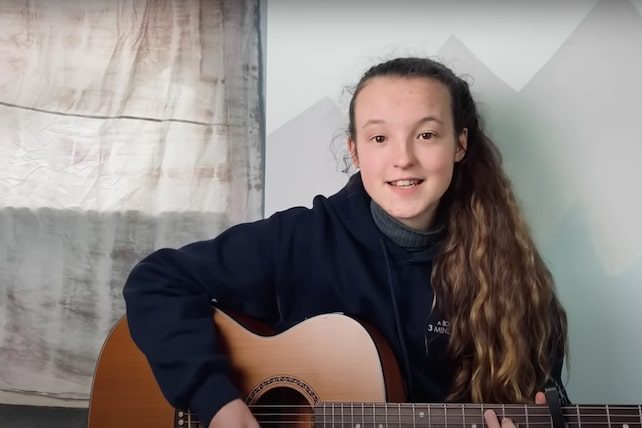 Bella Ramsey, who stars as "Ellie Williams" in HBO's, "The Last of Us," has a YouTube channel and Instagram account filled with covers of worship songs and her reflections on Christian living. While some of Ramsey's fans are just now discovering these accounts, the actor has not posted on them for about two years. 
"It's gonna be full of videos of hope, encouragement, joy, little pockets of, I don't know, like, positivity," Ramsey said in her introductory video to her YouTube channel, United Hope. "And it's gonna be sharing the light of Jesus, and this is all for him. This isn't through my strength that I'm doing this."
In the video, posted April 5, 2020, when Ramsey was 16, the actor said God filled her with the Spirit ("and I overflowed out my eyes") and showed her that she should create accounts on YouTube and Instagram to encourage people and "show Jesus."
Bella Ramsey Starts United Hope in 2020
Bella Ramsey, born Sept. 30, 2003, in Nottingham, England, got her breakout role playing Lyanna Mormont on HBO's "Game of Thrones" from 2016 to 2019. She has starred in several television series, including "The Worst Witch," "His Dark Materials," and "Becoming Elizabeth," as well as starring in Lena Dunham's 2022 film, "Catherine Called Birdy."
Ramsey's United Hope videos contain her thoughts and encouragements on living a Christian life. In one of her YouTube videos posted July 29, 2020, titled, "Equality," the actor reflects on racism and how it has harmed Black people. She remarks that people can use the Bible as a weapon in a good way against the lies of the devil, but that they can also weaponize it to commit injustice. "What being a Christian should mean is that we love everyone…as a child of God," said Ramsey. She encouraged viewers never to use the Bible for "racism, for anti-Semitism, for homophobia, for every other form of oppression." 
RELATED: Disney Star Joshua Bassett Proclaims Faith in Jesus at the Kids' Choice Awards
In other videos, Ramsey sings worship songs while playing the guitar. Songs she covers include Housefires' "Good Good Father" and Lauren Daigle's "Rebel Heart" and "You Say." Ramsey's cover of Hillsong UNITED's "Oceans" has over 1.6 million views as of this writing.
In one video from May 2020, Ramsey shared that she grew up in a Christian family, but that Christianity had never been a "massive thing" in her home. She attended church weekly, but was not raised to be "strictly religious." 
Ramsey said she personally experienced the Holy Spirit when she started attending a larger, different church in her hometown. The actor also revealed that she was diagnosed with an eating disorder in 2017 (although she struggled with it for a year prior to that) due to "being away from home for a long period of time." Her faith helped her overcome that disorder, said Ramsey, who also said she struggled with a phobia of being sick. The actor said she could relate to Jesus, who was so distressed before his crucifixion that he was sweating blood.