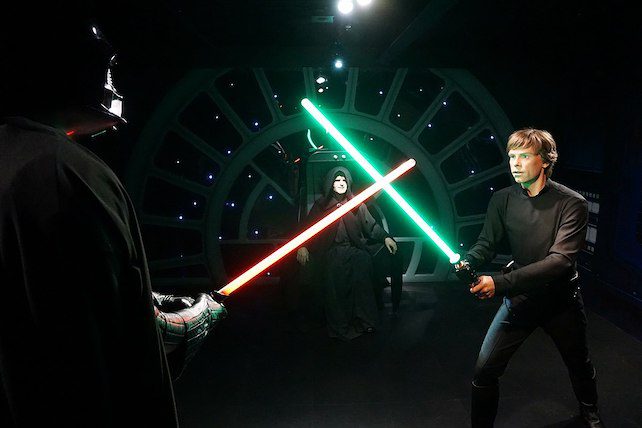 During this year's convergence of the National Day of Prayer and "Star Wars Day" (May 4th), a new survey was released on Americans' thoughts about spirituality and the Force. While fans of the film franchise spent yesterday greeting one another with the phrase "May the Fourth be with you," the spiritual-wellness nonprofit Skylight shared findings from its 2023 "American Prayer Wrap." (Skylight's parent company is affiliated with the The Church of Jesus Christ of Latter-day Saints.)
In the survey, conducted by City Square Associates, a representative sample of more than 1,800 U.S. adults responded to questions about their prayer habits and faith. Two questions referenced "Star Wars" concepts and characters, with participants indicating how they mesh with the movies spiritually.
Most Americans Are Aligned With the Force
The survey asked: "'The Force is what gives a Jedi his power. It's an energy field created by all living things. It surrounds us and penetrates us. It binds the galaxy together.' How much do your own views of spirituality align with this?" In response, 20% of respondents said their spirituality aligns "very much so" with the Force, and 36% said it aligns "somewhat."
In his book "Finding God in a Galaxy Far, Far Away: A Spiritual Exploration of the Star Wars Saga," Timothy Paul Jones wrote about the Eastern-religion ideas that are interwoven throughout the film franchise. "There's the pantheistic idea of an impersonal 'Force' that binds the universe together, the presence of a dark side and a light side in the spiritual realm, the emphasis on finding truth through mindfulness and concentration," wrote Jones, a professor at Southern Baptist Theological Seminary. "That provides us with a good opportunity to help our children to see the contrast between the personal God of Scripture and the false gods of pantheism and do-it-yourself spirituality."
However, he added that some themes in the story do have a biblical foundation. "Some of the most powerful aspects of the 'Star Wars' storyline are more Judeo-Christian than Eastern," Jones wrote. "Good triumphs through Luke Skywalker's willingness to sacrifice his own life to redeem his father, and Darth Vader turns from darkness and experiences reconciliation."
Yoda Is Americans' Top Pick for a Prayer Partner
Another survey question asked, "Which 'Star Wars' character would you rather meditate or pray with?" Of the nine characters listed, Yoda came out on top, at 23%. Baby Yoda was second, at 15%. Other responses included, "I wouldn't pray or meditate with any of them" (16%) and "Don't know enough about 'Star Wars' to say" (15%).