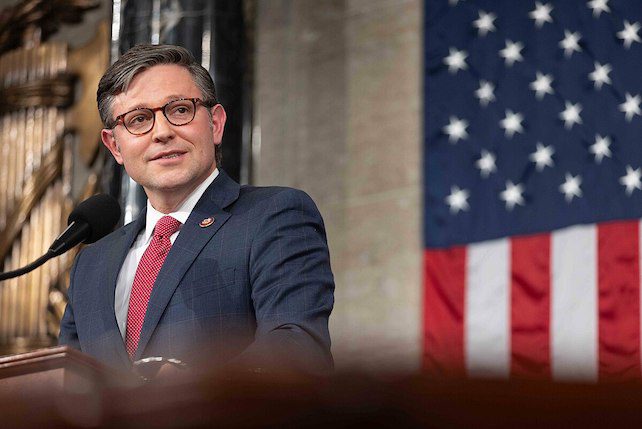 Since Mike Johnson (R-La.) became Speaker of the House on Oct. 25, his Christian faith has been under the microscope—and presented in unflattering ways. The latest example comes from Rolling Stone magazine, which published an article about Johnson's "creepy" use of anti-porn accountability software.
Sunday's article, which is behind a paywall, claimed that Johnson "Admits He and His Son Monitor Each Other's Porn Intake." Rolling Stone pointed to a 2022 interview of Johnson discussing technology and how he protects his family from illicit online content. Speaking at Cypress Baptist Church in Benton, Louisiana, the politician described using the Covenant Eyes app on electronic devices.
COMPROMISE ALERT: Speaker Mike Johnson uses software Covenant Eyes (learned about at a Promise Keepers retreat) that scans all his electronic devices & gives a weekly report an "accountability partner" his 17 yr old son (so basically don't watch porn or your son/dad will know😬) pic.twitter.com/SSWpB9IIDB

— Receipt Maven (@receiptmaven) October 31, 2023
"It scans all the activity on your phone, or your devices, your laptop, what have you. We do all of it," Johnson said about the app, which he learned about at a Promise Keepers event.
"Then [Covenant Eyes] sends a report to your accountability partner," Johnson continued. "My accountability partner right now is Jack, my son. He's 17. So he and I get a report of all the things that are on our phones, all of our devices, once a week. If anything objectionable comes up, your accountability partner gets an immediate notice. I'm proud to tell you, my son has got a clean slate."
Rolling Stone: App Might 'Compromise' Johnson's Devices
About the House Speaker's use of Covenant Eyes, Rolling Stone wrote that it has "creepy Big Brother-ness" to it. The article also warned that Johnson's use of the subscription-based service "might 'compromise' Johnson's devices, if he's still actively seeking accountability."
On X, formerly known as Twitter, commentators reacted swiftly to the new revelations about Covenant Eyes. That app was reportedly installed on the computer of Josh Duggar, who was convicted of receiving and possessing child sex abuse materials (CSAM).
Podcaster Brian Tyler Cohen wrote that Johnson "has been scrubbing this from his pages." Emily Snook posted, "This is not just about men working to end/avoid/work against the evils of porn. It's also a FATHER using his CHILD as 'accountability' and talking about it publicly as advice. And [red flag gif]."
'This Is Not the Gotcha You Think'
Pastor Dan Darling, director of The Land Center for Cultural Engagement, pushed back against that narrative. "This is not the gotcha you think," he wrote. "It's a parent using monitoring software to keep himself and his son accountable and free of pornography. Something millions of parents do. Have the folks at Rolling Stone met any parents?"
Dr. Samuel Perry, author of "Addicted to Lust," echoed that sentiment. "Lol. This is where you gotta understand the subculture," he posted in response to the House Speaker discussing Covenant Eyes. "Of all the things Mike Johnson may promote, Christian antiporn accountability software may sound fundy & weird to outsiders, but it's both mainstream & commonsense for folks who believe porn is cancer & addiction is rampant."