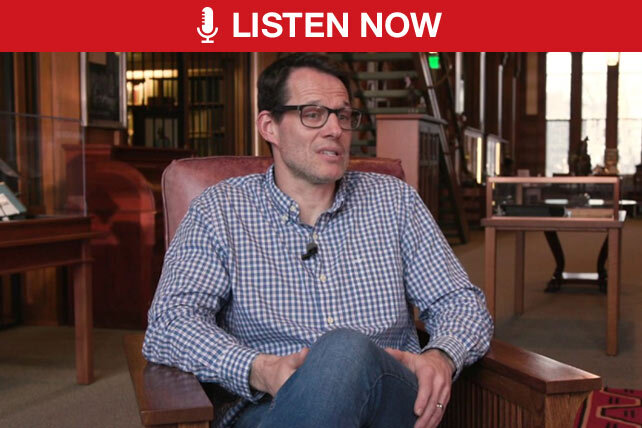 Dr. Samuel Perry is an award-winning scholar and teacher and a follower of Jesus who cares deeply about the church. Sam joined the Sociology Department of the University of Oklahoma in 2015 after finishing his Ph.D. at the University of Chicago. His research explores the interplay of religion and cultural power, and his work has been published in a variety of academic journals in the fields of sociology, religion, and sexuality. Sam has also published three books, including his most recent, co-authored with Andrew Whitehead, entitled "Taking America Back for God: Christian Nationalism in the United States." Sam is married to Jill, and they have three children.
Other Ways to Listen to this Podcast with Samuel Perry
► Listen on Apple
► Listen on GooglePlay
► Listen on Spotify
► Listen on Stitcher
► Listen on YouTube

Other Podcasts in the Christian Nationalism Series
Glenn Packiam: The Bible Leaves No Room for Christian Nationalism
Franklin Graham: We Have Never Been a Christian Nation
Timothy Keller: How to Know if You Are a Christian Nationalist
Key Questions for Samuel Perry
-What's the difference between patriotism and Christian nationalism?
-How does Christian nationalism deviate from following Jesus?
-What percentage of people in evangelical churches would you identify as Christian nationalists?
Key Quotes from Samuel Perry
"One of the unfortunate drawbacks of people talking about [Christian nationalism] a lot on social media…is you have a lot of people throwing around the term and who aren't able to define it well and it ends up being a catch-all term for conservative Christians or someone who wants their faith to impact their values and politics, and that's not at all what we mean by that term."
"When we talk about Christian nationalism, we're talking about an ideology that idealizes and advocates a fusion of American civic life with a very particular kind of Christianity."
"Christian nationalism often behaves in the exact opposite direction that we understand traditional faith commitments to do."
"People who hold more strongly Christian nationalist views are more likely to hold what we would consider irrationally fearful attitudes towards Muslims, towards Jewish Americans, towards atheists…and to see them as enemies."