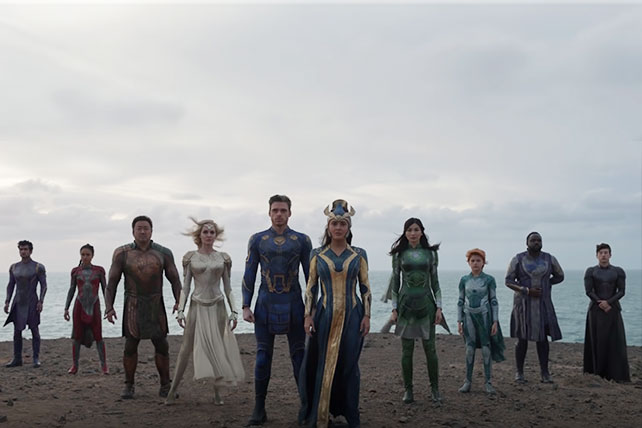 I once wrote after watching the first two disappointing episodes of WandaVision that I was going to stay with the series because Marvel had earned my trust. After attending an opening night showing of "Eternals," they are fast losing it.
First, let's begin with the characters. I actually liked the Deviants more than the Eternals. The Deviants were monsters simply protecting themselves from a group of people who were needlessly exterminating them.
But even worse, I was deeply offended by one of the film's storylines. I'm actually mad at myself. When am I going to learn? At what point am I willing to say, "Enough" and leverage my time and financial resources elsewhere?
It is so unfortunate that a particular storyline overshadows the entire movie. I cannot recommend this movie to anyone. At least there was no foul language.
I'm not egotistical enough to think my opinion is going to persuade anyone to forego this film who was planning on seeing it. Therefore, I will provide and overview of the movie and, giving credit where credit is due, a fantastic leadership quote.
Overview
The Eternals are about a group of individuals with super powers who have lived amongst humans for thousands of years. They are only allowed to engage in human conflicts and natural disasters if they are attacked by a group of monsters known as Deviants.
However, this planet has an expiration date which is about to go off and destroy all human life. This forces our decentralized group of heroes to reunite and save a group of people they have come to love.
A Great Leadership Lesson
The greatest quote of the film was when the warrior Thena, played by Angelina Jolie, tells a very compassionate and new leader Sersi, played by Gemma Chan, "When you love something, you protect it. It's the most natural thing in the world. You've loved these people since the day we arrived. There's no one better to lead us than you. Sersi, get up!"
This is an incredible leadership lesson! When looking to fill a leadership position, the first criteria you should look for is does the potential leader love or have the capacity to love your organization and its people? If not, continue your search.
The following are 5 additional Leadership Quotes from "Eternals."