What are some practical ways that the Holy Spirit engages our lives and empowers our ministries, and how can we experience more of that blessing? In this week's conversation on FrontStage BackStage, host Jason Daye is joined by dedicated pastor, best-selling author, and devoted Christ-follower, Max Lucado, as they explore the amazing power, strength, purpose, and blessing of the Holy Spirit.
FrontStage BackStage Podcast Guest Max Lucado
Watch the entire podcast here.
Keep Learning
The free Weekly Toolkit helps you dig deeper into every episode and grow personally in your life and ministry. Plus, you can use these tools to help develop and equip your ministry team… your staff pastors, key ministry volunteers, and other church leaders.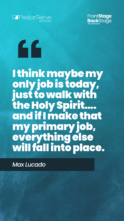 Podcast Links
YouTube https://youtu.be/U6FiUrC9u_c 
Apple https://apple.co/3c0fP91 
Spotify https://spoti.fi/3plwGpP