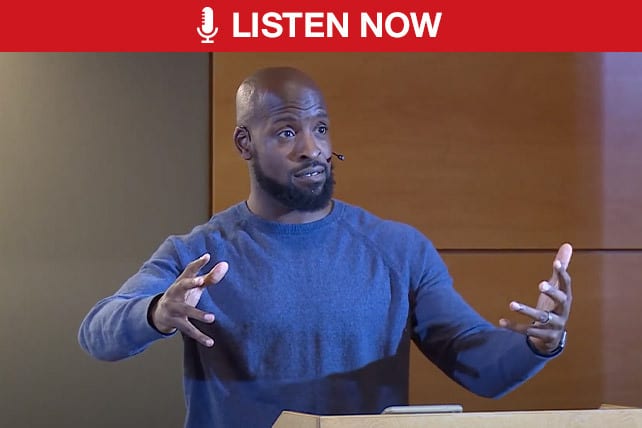 John Onwuchekwa is a native of Houston, Texas, and was born into a Nigerian home where the gospel was cherished and modeled. After graduating from college, he continued his studies at Dallas Theological Seminary. John has served at churches in both Texas and Georgia, and in 2015, he and his family moved into the historic West End of Atlanta to help plant Cornerstone Church with their closest friends. John also serves on the board of directors for The Crete Collective, an organization that exists to establish gospel-driven churches in distressed and neglected Black and Brown communities. He and his wife, Shawndra, have been married since 2007. They welcomed their daughter, Ava, in 2017. John and Shawndra are eager to see the hope of the gospel restore a sense of family, dignity, and hope to their neighborhood through their local church of ordinary people.
Other Ways to Listen to This Podcast With John Onwuchekwa
► Listen on Apple
► Listen on GooglePlay
► Listen on Spotify
► Listen on Stitcher
► Listen on YouTube
Raymond Chang: Global Christian Persecution Can Help You Understand Racism in America
Dennae Pierre: This One Thing Is Essential to Effective Racial Healing
Doug Logan: Why True Racial Reconciliation Has to Start With Jesus
Key Questions for John Onwuchekwa
-What does it look like for a church to reflect the racial makeup of its local community in a healthy way? 
-How do you respond to people who say that you are prioritizing social justice over the gospel? 
-How is what you are doing with The Crete Collective similar to modern-day missions work? 
-What are some of the common misunderstandings or obstacles that you have witnessed among American Christians when it comes to pursuing racial reconciliation?
Key Quotes from John Onwuchekwa
"The Crete Collective is scratching an itch that I think a lot of people have been trying to scratch. They just haven't been locating it in the right place."
"The predominant conversation that goes on in the mainstream is surrounding diversity or racial reconciliation and all those things, which are great things and a great goal. One of the problems we've seen is that when the conversation about diversity leads the way—we're not saying that it's wrong—but often is located in predominantly white spaces, and it's centered around predominantly white concerns."
"We found a camaraderie and a solidarity in one another that when we would go to some of these more established spaces, the concerns that we brought up felt like an addendum to the main agenda."
"When diversity becomes the North Star, you start to focus on the need that you have inside of the church building and not primarily the needs that exist outside in the community."
"Diversity and solidarity are not synonyms, but everywhere anybody looks at and describes what we're trying to do, anytime they want to use the word, 'diversity,' I want to replace it with, 'solidarity.'"  
"The Civil Rights Movement was a diverse movement, but diversity was never its goal. And I think that it's the same thing when it comes to a church."