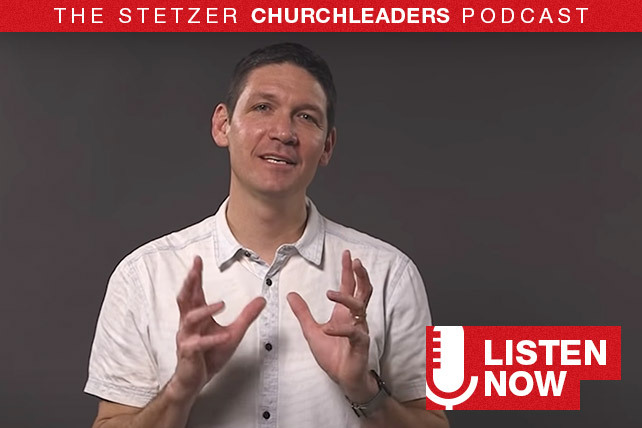 Matt Chandler is the lead pastor of teaching at The Village Church in Dallas/Fort Worth, Texas, and the president of Acts 29. He has authored several books, including "To Live Is Christ to Die Is Gain," "The Mingling of Souls," and "The Explicit Gospel." His latest, "Family Discipleship," co-authored with Adam Griffin, focuses on helping parents pursue gospel-centered discipleship with their children. Matt and his wife, Lauren, live with their three children—Audrey, Reid, and Norah—in Highland Village, Texas.
Other Ways to Listen to This Podcast With Matt Chandler
► Listen on Apple
► Listen on Spotify
► Listen on Stitcher
► Listen on YouTube
Key Questions for Matt Chandler 
-Do you have any thoughts on whether or not it is wise to address issues like race, the presidential election, or the COVID-19 vaccine from the pulpit on Sunday morning? 
-Where do you go to learn how to lead better during this time? 
-When someone in your congregation comes to you and says, "Pastor Matt, I read on the Internet that you are 'woke' because you said X," how do you respond? 
-How does the Bible guide leaders and believers towards understanding our cultural issues better?
Key Quotes from Matt Chandler 
"I'm trying to as best I can, by the grace of God, to thread that needle of saying the things that need to be addressed in order to shepherd and help our people live distinctively Christian lives in these times. But we're trying to do it in a way that's winsome and fair and true and not buy in to some of the more polarizing characterizations of the other side, if you will."
"This is a failure of the church over the last 20, 30 years that there doesn't seem to be a theological understanding of what the church is meant to be that has more power than these ideological tribes that have formed. People are really choosing their ideology even over doctrinal faithfulness."
"Even Jesus said, 'I have more to say to you, but you're not ready. You can't handle this yet.' And so there are congregations that are not ready for these kinds of conversations."
"I don't know that I'm interested in trying to keep a man or a woman who is already so hardened in their ideology that they're going to prefer that to a clear reading of the Scriptures. And so if you're going to have a conversation about politics, I want to be able to frame all that around the kingdom of God and King Jesus and what it means to live for that kingdom and be embedded in a nation state in this given moment in time."
"I need to get my heart fully alive in Jesus over and over and over and over and over again…And so I have tried to increase over the last couple of years pulling away and just being with Jesus."