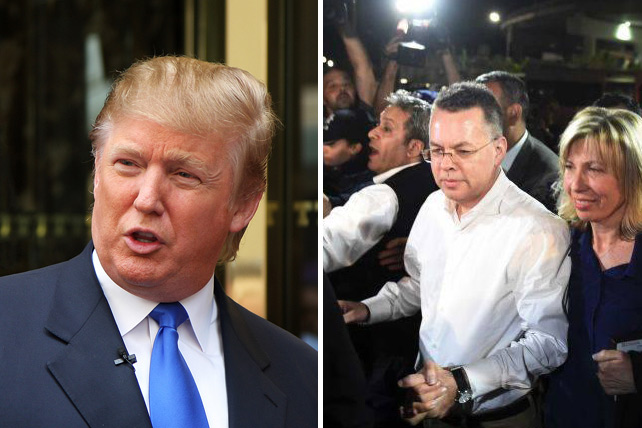 Andrew Brunson, the American pastor who spent nearly two years in prison in Turkey under charges of aiding terrorists, has returned to the United States. As he met with President Trump in the Oval Office, Brunson took the opportunity to pray for Trump, who had been key in securing his release.
"I really want to thank the administration," Brunson told President Trump and others gathered on Saturday, October 13, 2018. "You really fought for us, unusually so. From the time you took office, I know that you've been engaged."
Andrew Brunson and His Wife Pray for President Trump
Brunson asked Trump if he could pray for him. Consenting, Brunson kneeled next to Trump and placed a hand on his shoulder. The pastor prayed for "supernatural wisdom" to be granted to the President. Brunson's wife, Norine, also prayed for Trump. She asked for "the spirit of wisdom and understanding, the spirit of counsel and might, the spirit of knowledge and fear of the Lord" to be granted the President.
Pastor Andrew Brunson prays for President Trump in the Oval Office.
"I ask that you give him strength.. I ask you protect him.. make him a great blessing to this country & fill him with your wisdom and strength." pic.twitter.com/IqdA3azZyA

— Ben Kennedy (@BenKennedyTV) October 13, 2018
In addition to President Trump and Brunson, included in the meeting were Vice President Mike Pence, Secretary of State Mike Pompeo, Senator Thom Thillis of North Carolina, Senator Jeanne Shaheen of New Hampshire, Senator Lindsey Graham of South Carolina, Senator James Lankford of Oklahoma, and members of Brunson's family. All the politicians in the room had worked on Brunson's release.
Brunson was released from prison in Turkey on Friday, October 12. After a brief stop at a U.S. Air Force base in Germany, Brunson landed at Andrews Air Force Base outside Washington D.C.
Tony Perkins, a member of the United States Commission on International Religious Freedom, attended Brunson's final trial in Turkey. While he, along with so many others who worked for securing his freedom, was encouraged by his release, Perkins pointed to the ongoing struggle for religious freedom in Turkey.
"While we are relieved by today's decision on Pastor Brunson's unjust detention, we remain concerned for the Turkish people because numerous religious communities, such as the Greek Orthodox community and the Alevis, continue to face discrimination and restrictions on registration and ownership of property. Turkey must continue to work to treat all of its citizens equally and with respect for their religious freedom," Perkins said.
Indeed, it is encouraging that Brunson was released, although the fact remains that he was convicted of terrorism charges, charges which he vehemently denies. Brunson was arrested in 2016 after a failed coup attempt left Turkish President Recep Tayyip Erdogan leery of anyone who may have been involved. Somehow Brunson was swept up among the thousands of people who were imprisoned.
While some speculate Trump and Erdogan struck a "secret" deal that resulted in Brunson's release, on Saturday Trump denied the speculation. "The only deal, if you could call it a deal, is a psychological one," Trump said. "We feel much different about Turkey today than we did yesterday."
Trump told Brunson, "I just want to congratulate you because you have galvanized this country. There's so much interest, and it's your faith, it's your strength, what you've done, gone through."