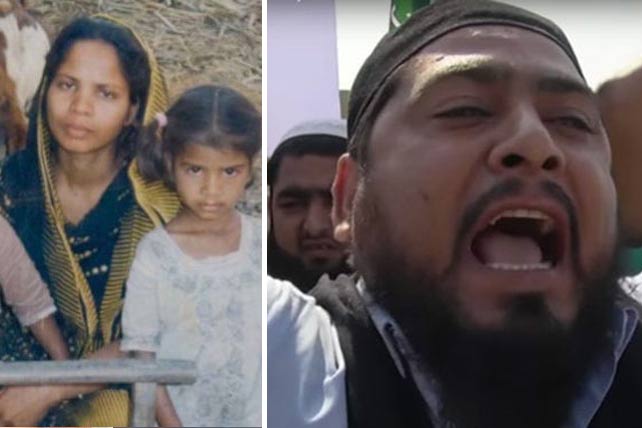 Asia Bibi recently opened up about the despair she struggled with while imprisoned in Pakistan under false charges of blasphemy. Even though her freedom is a victory, she begged the world to remember those still suffering as she once was, and she called for reforms to the country's legal processes. 
"I request the whole world to pay attention to this issue," she told The Telegraph. "The way any person is alleged of blasphemy without any proper investigation without any proper proof, that should be noticed. This blasphemy law should be reviewed and there should be proper investigation mechanisms while applying this law. We should not consider anyone sinful for this act without any proof."
Asia Bibi Case Resolved, but 'many' Others
According to The Telegraph, the U.S. State Department estimates that 77 people are in prison in Pakistan on charges of blasphemy. Surprisingly, most of these people are Muslims. The accusers often use the laws in order to "settle scores, or silence rivals." As of yet, no one has been executed for blasphemy in Pakistan, but The Telegraph notes there is always the danger of victims dying at the hands of an angry mob. And even if those accused escape death, they can languish in prison for years while their cases go unresolved because authorities fear religious radicals.
Asia Bibi had experience with both of those scenarios, although thankfully she did not die and eventually made it out of prison and her home country safely. Bibi was working on a farm in 2009 when two Muslim women who worked with her accused her of blasphemy. An incensed mob beat her before the police rescued her, but then a local imam reiterated the charges, and she was imprisoned and sentenced to death. She lived in prison for eight years before being acquitted in October 2018.
Bibi described her experience in prison to The Telegraph: "Sometimes I was so disappointed and losing courage I used to wonder whether I was coming out of jail or not, what would happen next, whether I would remain here all my life." She said, "When my daughters visited me in jail, I never cried in front of them, but when they went after meeting me in jail, I used to cry alone filled with pain and grief. I used to think about them all the time, how they are living."
Being acquitted last fall did not mean that Bibi had actually gained her freedom or that she was safe. It was extremely difficult for her in the months that followed as religious extremists rioted and the government decided to review its decision to set her free.   
At the end of January 2019, the Pakistani court upheld Bibi's acquittal, but her life was still in danger and she was unable to leave the country. The Telegraph reports that as time passed and Bibi could not even leave the room of the house where she was hiding, she became depressed and developed heart problems as a result of her situation. Muhammad Amanullah, a human rights activist who was Bibi's liaison with the EU, said, "At one point she had lost her hope and one day she told me, if I am assassinated, or anything happens to me please do not forget my daughters."
Thankfully, the next Asia Bibi update was that she and her family made it out of Pakistan and were granted asylum in Canada, according to reports that came out in early May. She says now that she and her family are hoping to move soon to an unnamed country in Europe. 
The pain this whole experience has caused Bibi has been enormous. On top of everything else she has gone through, because she had to leave Pakistan suddenly, Bibi was not able to say goodbye to her father or see her hometown one last time. She told The Telegraph, "My whole life suffered, my children suffered and this had a huge impact on my life." 
And yet, so many are still suffering like she did. She said, "There are many other cases where the accused are lying in jail for years and their decision should also be done on merit. The world should listen to them."