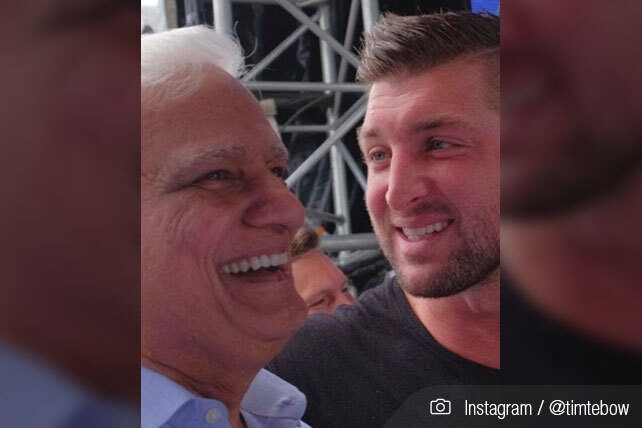 Editor's Note: After the publishing of this article, an independent investigation found allegations implicating Ravi Zacharias of sexual abuse to be credible. Prior to this report, ChurchLeaders had published multiple articles about Ravi Zacharias and his ministry. Although our editorial team believes his work still has value since it involved articulating the truths of God's Word, we would be remiss not to disclose the painful truth of Mr. Zacharias' personal actions that have come to light following his death. For further reading, please see:
Sexting, Spiritual Abuse, Rape: Devastating Full Report on Ravi Zacharias Released
The Story Behind the Ravi Zacharias Allegations (Part 1): Lawsuits, NDAs, and Email Threads
The Story Behind the Ravi Zacharias Allegations (Part 2): 'Cursory' Investigations and More Accusations
---
Former NFL quarterback Tim Tebow has requested prayer for speaker and apologist, Ravi Zacharias, who likely does not have much longer to live. Calling Zacharias one of his "heroes in the faith," Tebow also asked his followers to comment and share how the apologist has impacted their lives.
"I'm just so grateful for Ravi and his life, and our friendship and everything that he has helped and mentored me in," said Tebow, "and I just want to share so many of these stories, how he's touched your life, how he's touched my life, to be able to encourage him before he goes home to his forever home with his heavenly father."
Tim Tebow's Tribute to Ravi Zacharias
An emotional Tebow told his followers, "I think it's really important in life to have heroes, and especially in the faith, and one of my heroes of the faith is a man named Ravi Zacharias…and he's not doing very well."
Earlier this year, Ravi Zacharias underwent emergency back surgery and experienced severe pain during his recovery. He learned shortly afterward the pain was due to a rare form of cancer called sarcoma, located in his sacrum. At the end of last week, Zacharias's daughter, Sarah Davis, shared an update saying there is nothing more the doctors can do. While the cancer in her father's sacrum has responded to the chemo, the cancer that has metastasized in another area has worsened. Said Davis, "His oncologist informed us that this cancer is very rare in its aggression and that no options for further treatment remain. Medically speaking, they have done all they are able."
People from all over the world have expressed their condolences and prayers for Zacharias and his family. Tebow's post has received thousands of comments, as many have shared how the apologist helped them grow in their faith and ministered to them while they were walking through dark times in their lives.
"I call him uncle Ravi though we are not related," said one woman in response to Tebow's post, "because he has a tremendous influence in my life. From a non believer to a believer. He has spoken truth and his ministry has blessed me tremendously." She added, "I am glad we have met once in Malaysia and that was a divine God moment for me." 
"Because of Ravi," said another woman, "I went from a meek believer who was afraid of confrontation and questions about faith to blossoming into a God-fearing woman who seeks the correction and wisdom of the Lord and those in the body."
One man shared how Zacharias helped equip him for ministry as a young pastor.
As a young pastor and church planter, I was in way over my head and being asked questions by new Christians, skeptics, and people from all different kinds of religious backgrounds. God used Ravi so much to equip me to engage people with the gospel. What a blessing he is!

— Daniel Mann (@DanielDMann) May 9, 2020
Ravi Zacharias was known for tackling some of the toughest worldview questions that are posed about Christianity, such as "Why doesn't God stop evil from happening?" Numerous people described how the apologist has helped them walk through their doubts and skepticism. One man said, "I learned about Ravi at a pivotal time where I contemplated walking from my Christian faith…Needless to say he bridged the mind and the heart like no other and answered the deepest questions I had on origin meaning morality and destiny." 
Another said that Zacharias "is one of the reason [sic] that I found myself going to church again after falling away from God." Yet another commented, "Ravi, you made it so easy for an ex-skeptic like me to believe and keep my faith in the Risen King. thank you and our family is praying hard for you."
Others shared stories of times in their lives when they were full of despair, but Zacharias's words brought them hope. Said one Twitter user, "Ravi pulled me out of an encompassing darkness in 2017. I'm not sure I would still be here if not for his words."
Another man said his experience as a biology student in college "pushed me to the edge of my belief." But when he discovered Zacharias's talks, "His intellect and gentle spirit ministered to me when nothing else would…There were many nights where I was left with tears of hope, hope that I would find a way out of the desert of doubt." Said one woman, "I listened to Ravi throughout my daughter's nicu journey (122 days) I was very depressed and his talks brought me hope in a dark time." 
While a crucial part of Zacharias's ministry has been answering people's intellectual questions, the way he has done so has been just as, if not more, impactful. People are unanimous in saying that the apologist has been thoughtful, kind, and gracious in how he communicates his beliefs. "Regardless of people's background or worldview, he saw them as people whom God loves," one man commented. "He has been the premiere apologist for years because he truly cares for people," said another.
One woman told a story about a recent chance meeting with Zacharias: 
I was at the grocery store this year and when I walked outside it was pouring down rain. My umbrella was blowing in the wind and I was having a hard time with my grocery bags. A car was about to pull into a parking space and a gentleman rolled down his window (with the rain going into his car) and he said "Please Miss, go ahead of me to your car." I could not believe it but when I looked up it was Ravi Zacharias. He was so kind and such a gentleman. He is the real deal.
Various leaders have expressed their support for Zacharias, including Franklin Graham, Robert Morris, and former South Carolina governor Nikki Haley. Judah Smith, lead pastor of Churchome, responded to Tebow saying, "Thank you for this! I have never met Ravi but his words have affected me so deeply." Louie Giglio wrote, "Devastated. Heartbroken. Grateful."
Zacharias shared this post today on his Instagram account.
In her update, Sarah Davis said, 
While we are full of so many emotions, we are also at peace, resting in the truth that God knows all and sees all and is sovereign and good. I think of the great joy my dad will have, and I am comforted. Thank you for taking this journey with us, and as always, for your faithful prayers