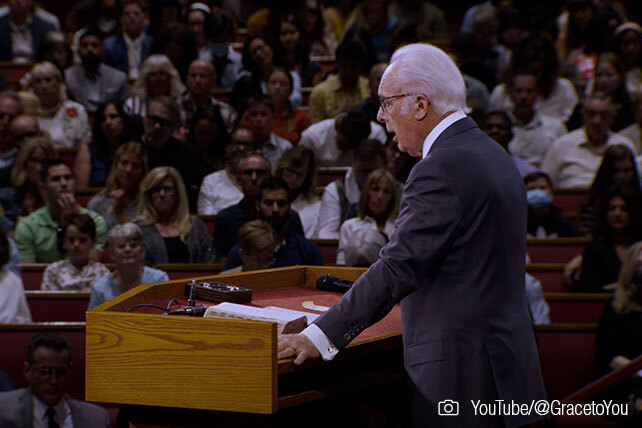 John MacArthur and Grace Community Church's special counsel, Jenna Ellis and Charles LiMandri, filed a lawsuit against California Governor Gavin Newsom, Attorney General Xavier Becerra, Los Angeles Mayor Eric Garcetti, and public health officials.
The suit filed is seeking to stop the enforcement of California's orders that forbid churches from meeting indoors. The Thomas More Society's press release Thursday morning calls the regulations "unconstitutional and onerous" and says Grace Community Church is seeking "a judgement that the health orders violate the California Constitution."
The lawsuit argues for the American people stating, "They have witnessed how the onerous restrictions imposed on them by public officials to allegedly fight the COVID-19 pandemic simply do not apply to certain, favored groups. When many went to the streets to engage in 'political protests against 'racism' and 'police brutality,' these protesters refused to comply with the pandemic restrictions. Instead of enforcing the public health orders, public officials were all too eager to grant a de facto exception for these favored protesters."
It is time for California to recognize that Christians are not second-class citizens.
Grace Community Church's attorneys say, "It is time for California to recognize that Christians are not second-class citizens," and that the court "must step in to do its job applying the protections the U.S. and California State Constitutions provide to every individual equally and to churches in particular."
This isn't about health. It's about blatantly targeting churches.
"We hoped that Los Angeles County would see its error on its own, but after attempted negotiations with their counsel, California is still intent on targeting churches—specifically, Grace Community Church," Attorney Ellis said. She also explained that California has no "legitimate" power to enforce restrictions on churches and that the restrictions are "onerous" and "unconstitutional." Attorney Ellis, who also serves as President Trump's Senior Legal Adviser, claims "This isn't about health. It's about blatantly targeting churches."
Churches are providing an 'essential' service to the people.
Attorney LiMandri also stated, "It is unconstitutional for Governor Newsom and the State of California to discriminate against churches by treating them less favorably than other organizations and activities that are not protected by the First Amendment." LiMandri cited that protesters have had free rein (with no restrictions), marijuana dispensaries haven't been restricted (because they are deemed essential), and abortion providers are still operating without government interference. "It is time for Governor Newsom and Mayor Garcetti to recognize what President Trump has already proclaimed: Churches are providing an 'essential' service to the people," he said.
The Background of Grace Community Church's Legal Battle
On July 24th, 2020, MacArthur and the Grace Community Church elders released a statement proclaiming "Christ, not Caesar, Is Head of the Church." The statement gave a Biblical case for the church's decision to remain open and defy the government's orders to close churches (large gatherings) due to the recent spread of the coronavirus throughout the state of California. On July 26th, John MacArthur preached to a full sanctuary of congregants and has continued to do so since. Then on July 29th, John MacArthur and Grace Community Church was sent a letter by attorney Jason Tokoro, representing the County of Los Angeles in California, demanding them to stop holding indoor worship services. The letter threatened a 90-day imprisonment and a $1,000 fine each time they conduct their indoor services.
MacArthur has remained vocal about how churches should react to the government church closure orders by appearing on news outlets, podcasts, and even saying how disappointed he is that other churches are shutting down. Alluding to church leaders such as Andy Stanley and J.D. Greear, who have recently announced they will wait until next year to resume in-person services, MacArthur said "they don't know what a church is." Just this past Sunday pastor MacArthur opened the service by welcoming everyone to the "Grace Community Church peaceful protest" then had LAPD's Chaplain Morehouse open them in prayer. Both the 'peaceful protest' comment and Chaplain Morehouse's prayer were met with loud applause and standing ovations in approval for the stance Pastor MacArthur and Grace Community Church has taken.
Grace Community Church isn't the only church that has been sued in California. Godspeak Calvary Chapel in Newbury Park, California was sued by Ventura County and issued a  temporary restraining order barring them from worshiping indoors. The church decided to meet anyway, and they were summoned to court this week over their violation of the order. A Ventura County judge denied the county's request to use law enforcement to enforce that restraining order. Even District Attorney Dan Dow of San Luis Obispo county, which is located in southern California, has declared the county a "sanctuary county" for churches to worship and sing freely without worry of fines or arrest.