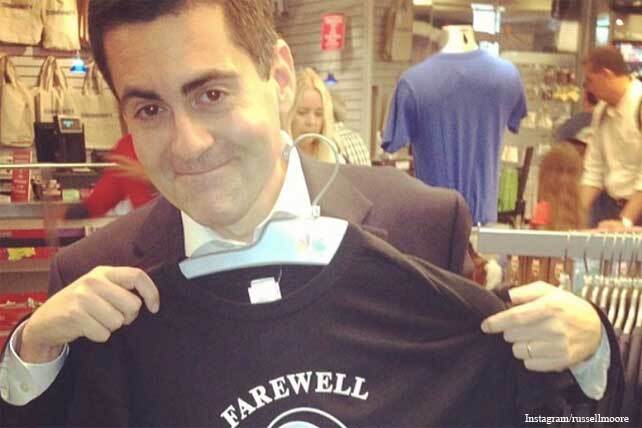 Russell Moore announced Wednesday that he is leaving his position as the president of the Ethics & Religious Liberty Commission [ERLC] of the Southern Baptist Convention after eight years. Moore is taking a position at Christianity Today as public theologian and director of a new Christianity Today Public Theology Project.
Moore wrote that he struggled with making the decision to leave the ERLC because his "gratitude for the honor of serving the ERLC is so deep." Moore also said he was "thankful for Southern Baptists, whom I love and to whom I owe so much."
Praising his ERLC team, he said, "Through the leadership of this team, we have worked together in building a project I could never have imagined on my own." Moore said the team has advocated for human dignity, religious freedom, racial reconciliation and justice, kindness and civility in the public square. The team has also fought against church sexual abuse.
"Christianity Today has meant a great deal to me in my faith journey," Moore said. Since childhood, he said the Christian publication provided him with "faithful voices of gospel integrity such as Carl Henry, John Stott, J. I. Packer, Charles Colson, John Perkins, and many others."
Christianity Today Welcomes Russell Moore
In a statement released by Christianity Today announcing Russell Moore as their new public theologian and director of a new Public Theology Project, president and CEO Timothy Dalrymple said, "We could not be more pleased with the addition of Russell Moore in this role."
"Russell has established himself as one of the most significant evangelical voices of our time," Dalrymple continued. "He illuminates the relevance of the gospel to the whole of life, from everyday matters of faith to the great debates in our society and culture. Importantly, he does all of this in a voice that demonstrates what we at Christianity Today call beautiful orthodoxy, weaving together a deep commitment to the historic integrity of the church with a generous, charitable, and humble spirit.
Christianity Today has been serving the church for 65 years after being founded by Billy Graham in 1956.
The Public Theology Project
Christianity Today describes the new project Moore will work on as something that will bring together a "broad set of voices" regarding faith in the public square. The project will use different media platforms to publish gospel content and will also host events. Moore will also use the new outlet for all of his writing and podcasts.
Dalrymple shared that "when we first began to discuss a Public Theology Project with Russell, we immediately welcomed the opportunity to grow that effort by joining forces on something that matters so much to all of us. We could not have a better leader for this effort than Russell Moore."
Moore's ERLC Was Investigated in 2020
In February of 2020, the Executive Committee of the Southern Baptist Convention voted to investigate the actions of the ERLC due to "ongoing concerns" that were expressed "both publicly and privately" to committee and SBC leadership.
The findings of the report called the ERLC a "significant distraction from the Great Commission work of Southern Baptists." One SBC leader said, "The ERLC has been a stumbling block not worth the mission dollar investment."
The report didn't call for Moore to be removed, but did recommend that the ERLC refrain from making comments about political candidates and only speak on issues the SBC has already made decisions on. Moore outspokenly opposed former President Donald Trump's ways of doing things, specifically when it came to immigration and race relations.
This Is the Second Moore Recently Leaving the SBC
Beth Moore, who is no relation to Russell Moore, announced in March of this year that she is "no longer a Southern Baptist," due to their recent nationalism, sexism, and racial divides. The Living Proof Ministries founder said that she is "still a Baptist, but I can no longer identify with Southern Baptists." She said she still "loves" the things Southern Baptists believe. Beth has been partnered with Lifeway, the Southern Baptist Convention's publishing and distribution division, for the last 25 years.
In 2019, during a panel discussion at the Southern Baptist Annual Convention that included both Russell Moore and Beth Moore, Russell made the comment "An SBC that doesn't have a place for Beth Moore, doesn't have a place for a lot of us."
Perhaps it's no coincidence that after Beth Moore's departure from the SBC, her good friend Russell Moore followed her lead a few months later.