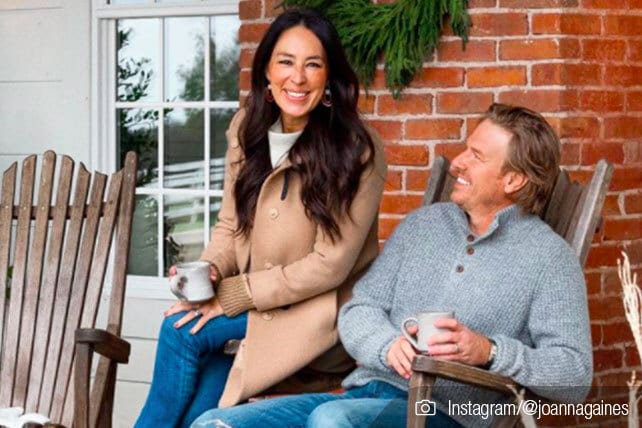 Ahead of the launch of their own cable network this month, Chip and Joanna Gaines recently spoke about facing racist and anti-LGBTQ accusations. In a rare interview, the Christian couple behind the Magnolia empire tells The Hollywood Reporter they make conscious efforts to include and love all people.
The Gaineses, who shot to fame through the home-makeover show Fixer Upper, have turned Waco, Texas, into a tourist attraction, complete with a shopping complex, restaurant, bakery and more. On July 15, the parents of five will launch the Magnolia Network—first through Discovery+ and then as a replacement for the DIY Network. In their new off-camera roles, Chip and Joanna say they'll try to remain genuine and make choices that honor their family and community.
Joanna Gaines Addresses Accusations
During their hit show's 2013 to 2017 run on HGTV, the Gaineses largely avoided controversy. But a 2016 BuzzFeed article raised questions about their church and pastor, who opposes same-sex marriage and supports conversion therapy. Unlike other home-renovation shows, Fixer Upper never featured same-sex couples.
Speaking to the Hollywood Reporter for its "Country Kingdom" cover story, Joanna Gaines describes the difficulty of not fighting back. "Sometimes I'm like, 'Can I just make a statement?'" she says. "The accusations that get thrown at you, like you're a racist or you don't like people in the LGBTQ community, that's the stuff that really eats my lunch—because it's so far from who we really are. That's the stuff that keeps me up."
RELATED: LGBTQ and the Church Podcast Series: A Conversation We Need to Have
With the recent outbreak of violence against Asian-Americans, Joanna Gaines has become more vocal about her mixed-race heritage and harassment her family has faced. "My mom [from South Korea] is so tough, but with one look or comment, I would just see her shut down," she says. "That's why she didn't know how to help me when I would come home and say, 'So-and-so called me this.' It was also happening to her." Joanna continues, "Growing up as half-Asian, half-Caucasian, I get what that feels like to not be accepted and to not be loved. That's the last thing I want anyone to ever feel."
Although social media drives much of Magnolia's business, it also presents challenges. "You're always going to make a lot of people mad, and you're always going to make a lot of people happy," says Joanna. "I don't think as humans we're meant to carry that kind of weight."
Chip Gaines: 'It's Hard to Be Perfectly Diverse'
Chip Gaines, who stayed in Waco after attending Baylor University, admits that the effort to be inclusive is ongoing. "As an American white male, it's hard to be perfectly diverse," he says. "In our own company, we've got nearly 700 employees, and one of our biggest passions is making this group represent all people."
At least one show on the new Magnolia Network features an openly gay roster, and people of color star on several series. Last June, the entire Gaines family appeared on Emmanuel Acho's "Uncomfortable Conversations With a Black Man," discussing the topic of "color blindness."
In his new role, Chip Gaines says he's eager to work to prove his trustworthiness. "I can't wait to be 80 years old and for people to say, 'Gosh, we really pegged you as phony,'" he says. Another challenge the couple will face is the unpleasant task of cancelling shows. "We haven't experienced much failure," says Chip, "so to hear [Discovery Inc. CEO] David [Zaslav] say, 'You're going to fail 70% of the time,' that's hard."