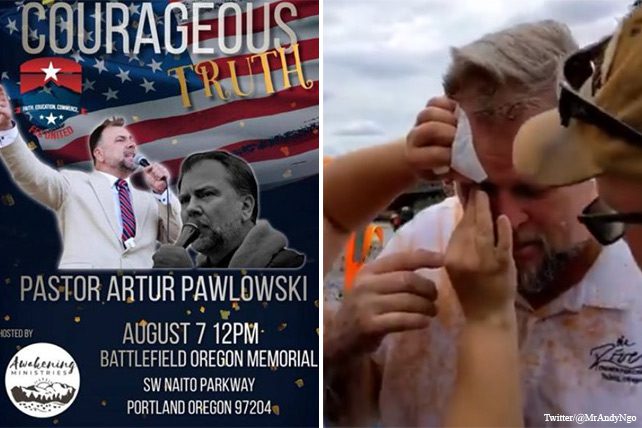 A Christian prayer and worship event that was planned to take place at Tom McCall Waterfront Park in Portland, Oregon, over the weekend resulted in an unwelcome confrontation with a mob of violent Antifa protestors.
The event was intended to feature controversial Polish-Canadian pastor Artur Pawlowski. Pawlowski is known for his clashes with the Royal Canadian Mounted Police when he called them Nazis during an Easter service as they confronted him for violating COVID-19 public health orders. Pawlowski also made news when he was dragged away in handcuffs for holding a worship service that again violated public health orders.
Last month, when the Portland event was announced, an Antifa member told Pawlowski over Twitter: "Welcome to Portland, you won't like it here, Pastor [purple devil face emoji]."
Related article: Pastor Coates and Others Attend Rally Outside of Pastor Tim Stephen's Prison
Antifa Mob Armed and Violent
Dressed in all black and wearing face shields, masks, gloves, and military-style boots, Antifa protesters carrying riot-type police shields and armed with melee weapons, pepper spray, rocks, fireworks, and flash bombs descended upon what had been a peaceful gathering of men, women, children, and infants.
In disturbing video that captured the majority of the attack, attendees can be heard asking, "Why are you doing this? For what?" Members of the Antifa group yelled that they were protesting fascism, while an unidentified event attendee yelled back that the pastor in attendance was a victim of fascism himself. "What are you doing? They arrested this pastor! What are you doing?" An event attendee can be seen holding a large banner with Donald Trump's face on it.
The protestors continued to yell at event attendees and hurl rocks. They charged and physically intimidated worshippers and ripped down sound equipment and speakers. They also dumped food on attendees and sprayed them with pepper spray.
Attendees can be heard coughing and screaming as they distanced themselves from the event area, some with children in their arms.
"Where is your God now?" one of the Antifa members can be heard shouting.
One of the pastors said he tried to reason with the Antifa protestors, saying, "It's about knowing differences; it's not about all that, you know," referring to the violence and destruction the group was perpetrating. The pastor, who had been pepper-sprayed, told the person recording the video: "When I'm trying to tell them I'm here to love people…give you a hug…I'll tell you I love ya. And then I get this [pointing to his pepper-sprayed face]. So it's all one-sided, unfortunately." The pastor told the camera that the protestors did not care to engage in conversation or know the group they were attacking.
Another pastor close to the camera said, "They don't even want to talk. They have their own mindset and that's it."
A woman who was helping a pastor who got peppered sprayed was asked by the controversial conservative independent journalist Andy Ngô, "What happened?" (Ngô is known for sensationalistic reporting in previous incidents involving Antifa, the Proud Boys, and Muslims.) The woman described the incident, saying, "We were about to have a worship event and Antifa just rolled in like angry mobs [and] started throwing flash bombs at everybody, macing everybody, [throwing] rotten eggs at everybody, and black paint at everybody. They threw a flash bomb in a group of kids that were out there from that four months old to like 10. They were ruthless."