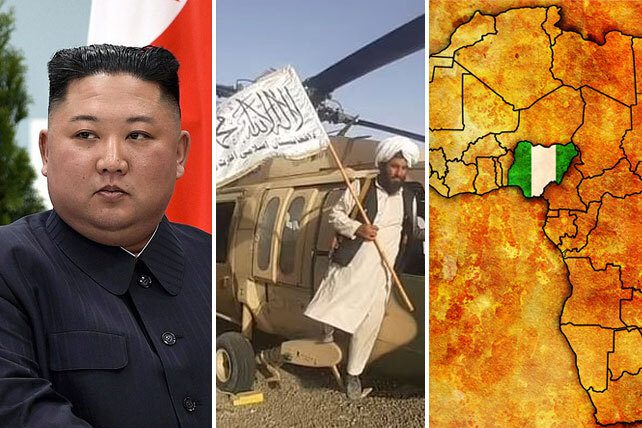 Kim Jong-un, the Taliban, and Nigeria have all received awards from a persecution watchdog group—"Persecutor of the Year" awards, that is. On Nov. 16, International Christian Concern (ICC) chose "dis-honorees" in the categories of individual, entity, and country in its report on the state of Christian persecution throughout the world.
"Whenever a report like this is prepared," said the ICC, "it is helpful to keep in mind the numerous candidates which could have received our 'awards.' There is always a subjective element in ranking countries in terms of their human rights records." The report continues:
For instance, we could have chosen North Korea for worst persecuting country. But since persecution in North Korea is so fused with Kim Jong-un, we selected him as our top individual. Nigeria earned the country designation for its brutal crackdown on Christians. And while the Taliban takeover didn't catch ICC by surprise, they once again are crushing the hopes and dreams of believers, earning the Taliban our top spot for "entity."
International Christian Concern's Top Persecutors
The purpose of International Christian Concern is "to relieve the suffering of the worldwide persecuted church and help it grow in strength and breadth." This is the first year that ICC has named "Persecutors of the Year." Previously, the group released a "Hall of Shame" report that named top persecutors of Christians around the world. ICC's 2016 Hall of Shame, which named 12 countries, was notable for including the United States for the first time. 
"For many years, we published a report called the Hall of Shame, calling out the world's worst persecutors," said ICC in a post on its Facebook page. "This year, we have revamped this mission, issuing 'Persecutor of the Year' awards to the most notorious countries, individuals, and entities around the world…We also pray that it will help you and your church stay informed about your suffering brothers and sisters."
In addition to naming one primary offender in the categories of "individuals," "entities,"  and "countries," the report lists other top offenders in those groups. Countries named include China, India, Iran and Myanmar. Some of the individuals listed are Turkish president Recep Tayyip Erdogan, Iranian president Ebrahim Raisi, and Chinese president Xi Jinping. Two Indian politicians made the list: Narendra Modi, the country's president, and Yogi Adityanath, minister of the state of Uttar Pradesh. Among several entities highlighted in the report were the Allied Democratic Forces (in the Democratic Republic of Congo), Boko Haram, and Al-Shabaab. 
 "This was a monumental and historic research project by our staff," said ICC president Jeff King in an announcement about the report. "We are making the world aware of the atrocities committed by some of the worst persecutors of Christians. We name the offenders and release this report to give the media, government officials, and public a valuable resource on persecution. We want to share this information and pressure the foreign leaders who are committing these documented crimes."