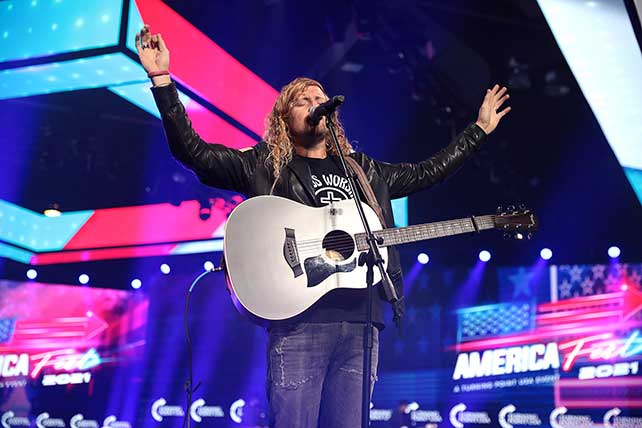 On July 11, Rolling Stone Magazine published an article claiming Christian musician, author, and activist Sean Feucht has taken advantage of conservative Christians, profiting millions of dollars in donations from them.
In a piece titled "MAGA Preacher Sean Feucht Scored Millions From His Trump-Loving Flock," journalists Tim Dickinson and Kara Voght labelled Feucht as a "far-right Jesus rocker," describing Bethel Church's former worship leader as someone who used the COVID-19 pandemic, supporting Trump, and fighting liberal-minded politicians as a means to make "a name for himself."
The article appeared to take exception with Feucht's desire to bring Christian values into the political world, which he has sought to do with his outspoken LGBTQ+ protests against Disney and anti-abortion worship rallies.
Dickinson and Voght mentioned in their article the ministry's recent purchase of a small brick house located on Capitol Hill, which the ministry calls "Camp Elah" after the valley where David fought and killed Goliath. "Camp Elah's" website describes itself as "a small space, for people of big faith. Our prayer is for 'Camp Elah' to be a launching point for the next generation of Davids; men and women who fearlessly slay giants in the land."
RELATED: Sean Feucht Leads a Worship Rally in Front of Disney's Headquarters; Tells ChurchLeaders 'It's Time for the Church To Be Bold'
In June, Feucht tweeted that Rolling Stone showed up "to spy" on their prayer team in Washington D.C., saying, "The mainstream media will stop at nothing to attack Christians. Yet, we've seen God use this stuff to even change the reporters (sic) hearts."
Rolling Stone took issue with Feucht's recent home purchases in 2020 and 2021, implying that Feucht lives in abundance via ministry funds. Feucht shared with ChurchLeaders that those homes, one of which is an Airbnb property located in Montana, the other being his family's SoCal home, were purchased with personal funds, not ministry funds.
The journalists called what Feucht is doing a "fusion of own-the-libs rhetoric and Christian zealotry," which resonates with many. They further used Feucht's recently released IRS records to claim he profited greatly from his "Let Us Worship" COVID-19 lockdown protests in 2020.
The non-profit Sean Feucht Ministries Inc. reported $5,313,651 in revenue for 2020, a vast difference from their $283,272 report in 2019. Rolling Stone called Feucht's financial surge "curious," due to the fact Feucht didn't report any contributions and grants in 2020.
The ministry described how they acquired funds on their 990 tax form as follows: "Sean Feucht ministries strives to spread the whole word of God through preaching and teaching engagements as well as through concerts and media sales."
While Ministry Watch president Warren Cole Smith said that Feucht doesn't appear to be doing anything illegal, he did warn about the possibility of Feucht leveraging his ministry to "live the high life."