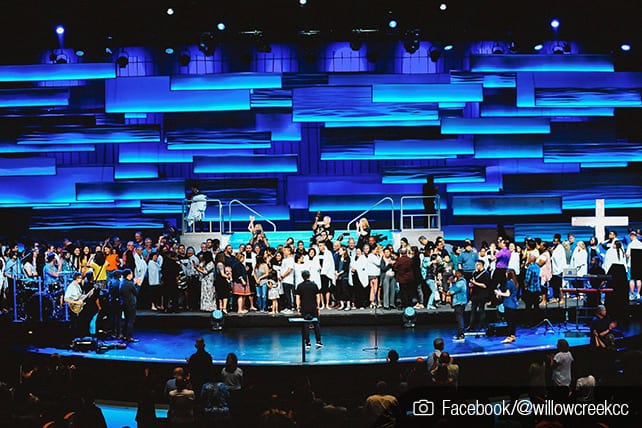 For decades now, churches and church leaders have looked to Bill Hybels and the Willow Creek Association he founded to model godly leadership. As influential leader after influential leader took the stage of the annual Global Leadership Summit year after year, we learned a lot that we could take home and implement in our own companies, ministries, churches, lives, etc. This year, before the conference has even started, we are learning from Hybels' and Willow Creek's example. We've been learning since April. This year's lesson: How not to handle accusations against a leader.
Surely they didn't intend this, but Willow Creek is leading the charge on how to respond to the #churchtoo movement by giving us a real-life example of exactly what not to do.
Willow Creek always seemed to be several strides ahead of every other church and Christian organization in America. Now what we are witnessing is akin to a race in which the teammate ahead of you stumbles over a stumbling block and falls.
Willow Creek's Attempt at Damage Control
The Chicago Tribune broke the news of the allegations against Hybels in April 2018. Hybels defended himself painting the allegations with a broad stroke, calling them all lies and the result of an effort to tarnish his legacy. The elder board of Willow Creek Community Church followed the suit of their leader. They denounced the Chicago Tribune article. When new allegations surfaced and respected Christian leaders who had been affiliated with the church in the past voiced their concern over how the church was handling the allegations, the church doubled down. Then slowly, their narrative began to change. It started with an apology to the women who had come forward.
Key leaders at Willow Creek, like new executive pastor Heather Larson, dropped lines such as "this church has never been about a person or about a personality" in the Sunday service announcements. Yet, after another big article with a new allegation broke in the New York Times, Steve Carter, Willow's Lead Teaching Pastor, resigned. Now the elder board has announced the church will be subject to an independent investigation. Unfortunately, their half-hearted apologies and delayed action feel like too little too late.
Simultaneously, the Willow Creek Association (WCA), which organizes the Global Leadership Summit (GLS), started trying to disassociate themselves from Hybels in April. His image stopped appearing on their promotional material shortly after the news broke. On August 6, 2018, just days before the Summit, the GLS released a statement saying "Bill's engagement with the Summit and Willow Creek Association was completely severed in early April. He has had no involvement in the 2018 Summit or Willow Creek Association since, and there is no path for him to return."
On the eve of the GLS, news of churches pulling out of being host sites for the conference are surfacing. There are calls on Twitter asking the speakers to step down as well in a stand of solidarity with the women who have made the allegations. And yet, the WCA maintains it will have the same amount of host sites and attendees as years previous. When ChurchLeaders reached out to the WCA, they told us they have 700 churches registered as host sites. Yet the site where our leadership team is supposed to attend the GLS has pulled out and there are reports of others.
What Can Willow Creek Teach Us Now?
If you've attended the GLS before, you will recognize this quote: "Your culture will only ever be as healthy as your top leader wants it to be." Hybels said this on multiple occasions at the GLS over the years. Unfortunately, this statement is all too true for Willow Creek right now.