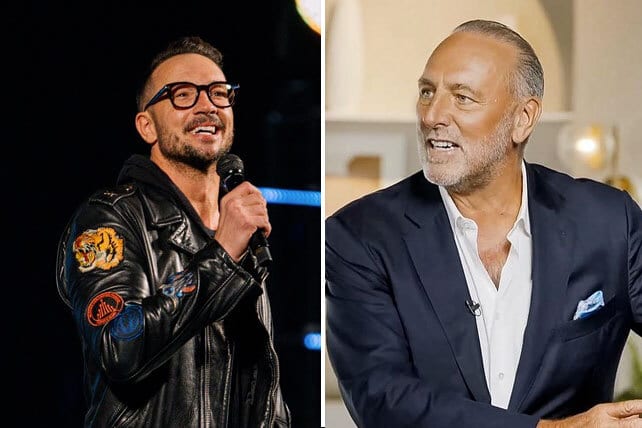 On Wednesday, the founder of Hillsong Church opened up about criticisms and scandals recently linked to his organization. Brian Houston, in an exclusive interview with NBC's "Today" show, answered questions about Hillsong's disgraced former pastor Carl Lentz as well as the church's celebrity culture and stance on homosexuality.
Though Houston acknowledged experiencing "a lot of disappointment" and losing sleep during this "difficult" season, he said, "I genuinely believe in my heart Hillsong is a good church." He adds that he's "100% committed" to ridding Hillsong's culture of any type of mistreatment.
Carl Lentz Is a 'Unique Character,' Says Hillsong's Brian Houston
When asked about the November firing of Carl Lentz, the so-called celebrity pastor who'd led Hillsong's New York City branch, Houston cited "leadership issues that I believe included lying" as well as "narcissistic behavior." After being fired, Lentz admitted he'd been unfaithful to his wife, Laura.
Houston says he had "concerns and many conversations over the years" with Lentz, but "Carl was Carl. He's a unique character." Houston denies suggestions that he and Lentz are similar but indicates that would be a "compliment," because the former Hillsong pastor is "incredibly gifted." He adds, "There's a lot of things I miss about Carl."
Saying "there's a lot of things I should've known earlier," Houston maintains that he's "ultimately responsible" for his church's leaders and is working to ensure "better accountability" in the future. Although not all the recent negative reports about Hillsong are true, Houston says, he's "not shrinking back" from areas "where we need to get far better, much better."
Houston Addresses Celebrity Culture, LGBTQ Stance
In response to questions about Hillsong's appeal to celebrities, Houston denies intentionally trying to "attract famous people to church." A culture of special treatment and different rules for stars did emerge, he admits, but "there's another side to it." Pointing to the "radical change" evident in the life of famous attendee Justin Bieber, Houston says "not everything…is bad" about the church's environment.
Other controversies that have dogged Hillsong recently include reports of volunteer mistreatment and financial abuse, plus the shuttering of its Dallas branch. "In my mind," says Houston, "if one person is treated badly, that's one too many."
Asked whether Hillsong's challenges stem from its size, he replied, "I'm not sure a church can be too big. I just think we have to grow into ourselves." All large congregations, says Houston, must "scramble to put the things in place for a 21st-century mindset that enables us to be stronger."
The church also has faced accusations of being anti-LGBTQ and turning away gay people. Houston denies having "any personal bias" against the gay community, adding that "as a pastor, you don't represent what you think; you represent what the Bible says." Hillsong, he says, maintains a "conservative" stance on "active gay relationship" but is on a "journey."
"Everyone's welcome" at Hillsong," says Houston, adding that many gay people worship there. "I want us to get better at the way we communicate and embrace and work with people who are gay," he adds.
RELATED: Caleb Kaltenbach: Do You See the LGBTQ Community Through God's Eyes?