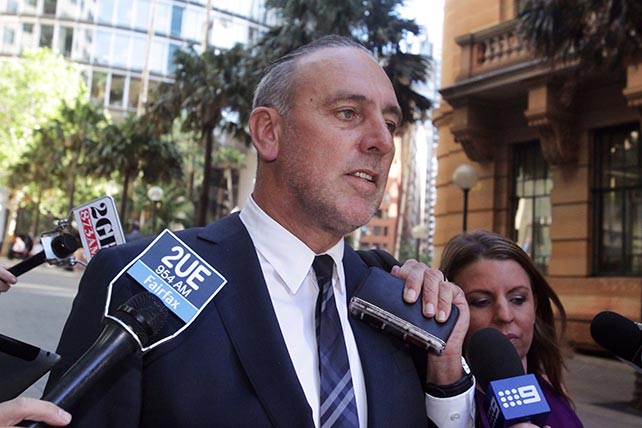 UPDATED August 10, 2021: "Obviously devastated" is how Brian Houston described himself in the aftermath of being charged for allegedly failing to report his father Frank Houston's sexual abuse of a seven-year-old boy during the 1970s. Houston made his comments while traveling and preaching at churches in the state of Missouri.
At James River Church in Ozark, Mo., Houston delivered a sermon on the seven qualities that the devil would like to "steal, kill, and destroy." Those qualities are: unity, joy, generosity, zeal, focus, confidence, and faith.
"The enemy, he would so love to undermine your confidence," said Houston, "and you know, confidence is always vulnerable. Just because you're confident today, doesn't mean the devil can't undermine it and attack it." This is especially true, said the pastor, if our confidence is rooted in ourselves instead of God.
Unsurprisingly, Houston did not mention the charges against him during his sermon, even as he encouraged the congregation not to lose heart amid the challenges of life. "Age is not going to weary me," he said when speaking on the importance of zeal. "Life can be, it can take its toll. There's challenges in life, it can take its toll, but I want to be filled with zeal."
---
ChurchLeaders original article written on August 5, 2021, below:
Brian Houston, global senior pastor and co-founder of worldwide evangelical megachurch Hillsong, has been charged by New South Wales (NSW) Police Force for allegedly concealing child sex offenses. Houston's lawyers were served on Thursday August 5, 2021.
The charge comes after a two-year investigation that concluded Houston failed to report his father Frank Houston's sexual abuse of a seven-year-old boy during the 1970s. The investigation revealed that Houston was aware of his father's alleged abuse in 1999, and rather than reporting the truth to the authorities, he chose to look the other way so his father could retire quietly. His father admitted to the abuse before his death in 2004.
A statement released by NSW Police Force said they will "allege in court [Houston] knew information relating to the sexual abuse of a young male in the 1970s and failed to bring that information to the attention of police."
Related article: Carl Lentz, Pastor of Hillsong East Coast, Fired for 'Moral Failure'
Hillsong Church released an emailed statement that included Houston professing his innocence. Houston said, "These charges have come as a shock to me given how transparent I've always been about this matter. I vehemently profess my innocence and will defend these charges, and I welcome the opportunity to set the record straight."
"Disappointed" was the word Hillsong Church used regarding the charges brought against its global senior pastor. If found guilty, the 67-year-old Houston could face up to five years in prison.
The megachurch released a statement on July 23, 2021, in the hopes of clearing up what they called "several wildly inaccurate stories," that had been published. Hillsong Church said it wanted to combat misinformation that was swirling in media outlets by answering common questions people were asking.
Hillsong Church has locations in 28 countries including the U.S. and reports an estimated 150,000 global attendees every week.
Houston is scheduled to appear in Sydney, Australian, courtroom on October 5, 2021.
Hillsong Church's Recent Scandals
Hillsong's appearance in the news for other scandals has overshadowed the church's mission in recent months. Less than a year ago, Hillsong fired its East Coast Pastor Carl Lentz for "leadership issues and breaches of trust, plus a recent revelation of moral failures." Lentz took responsibility for the failures, admitting that he was unfaithful in his marriage. Earlier this year, his former nanny alleged that Lentz subjected her to "bullying, abuse of power and sexual abuse" during the seven years she was employed by Hillsong NYC.
Related article: 'Theology Matters'—Why One Worship Leader Can No Longer Support Hillsong, Elevation, Bethel
In April 2021, Hillsong New Jersey Montcliar's creative director Darnell Barrett stepped down due to infidelity.
Prior to Barrett's resignation, Reed and Jess Bogard announced they would be leaving as pastors for Hillsong Dallas because of allegations of inappropriate use of church funds. Their resignation led to the closure of Hillsong's Dallas campus.