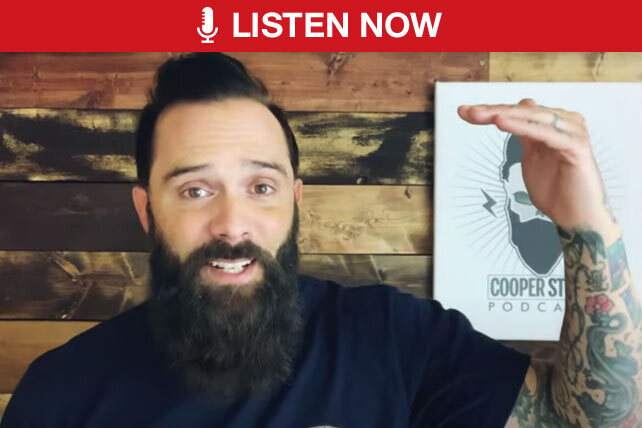 John Cooper is the lead vocalist, bassist, songwriter, and producer for Skillet, one of the best-selling rock bands of the 21st century. The twelve-times platinum band has been nominated for two Grammy Awards, taken home a Billboard Music Award, and was recently invited into Pandora's Billionaires Club after garnering two billion streams. Skillet has sold over 12 million albums worldwide, and their breakout single, "Monster," remains one of the most streamed rock songs of all time, with nearly 300 million global audio streams. John is a devoted Christ-follower who has released his latest book, entitled "Awake and Alive to Truth: Finding Truth in the Chaos of a Relativistic World."
Other Ways to Listen to this Podcast with John Cooper:
► Listen on Apple 
► Listen on GooglePlay
► Listen on Spotify 
► Listen on Stitcher 
► Listen on YouTube 
Key Questions for John Cooper
-How have you managed to keep your Christian faith and convictions in the world of professional music?
-How do you respond to people who say you should stick to being a rockstar and stay out of commenting on cultural issues?
-What is it specifically about brand-building and pastors that concerns you? 
-How have you seen relativism impacting younger people, many of whom are walking away from their faith? 
Key Quotes from John Cooper
"I love pastors, I love people that work and serve the church…it's really hard work, and I've seen that firsthand."
"I love telling people about the hope I've found in Jesus, and there's nothing else really worth talking about."
"It feels to me the more out loud I am about Jesus, the more rock and roll music fans respect it. It's very, very strange."
"Sometimes Christian musicians do not want to be under church leadership…I tell people all the time, I don't care what you do, if you are a believer, you are to be in church under leadership."
"I could give you so many stories like that of how God has kept me safe because I fit within God's design for the people of God. So I always encourage Christian musicians, you're going to go on the road, you're going to start writing your own stuff, but you need to be under leadership, and your life is going to be blessed because of it. I will tell you that is probably the number one best thing that we've done." 
"We are not an island. I view Skillet as a ministry, almost like a mission sent out from my church under the guidance and leadership of my elders."
"[The 'cool pastor' problem] is not to me so much actually about the way you look. It's an issue of being appropriate for the calling that you have. And of the things that is really bothersome is that branding is all about creating a world in which everything revolves around you." 
"Controversy online is going to build your brand whether you are proud of what you have said or not…If you apply that to branding in the pastoral world, you can see how you can get into some real danger." 
"If you really speak truth to people, you're probably going to become more unpopular."
"I don't want to make it sound like I don't think pastors should be online or have YouTube [videos] of sermons or tweets. Personally, I kind of think that's a good thing. I think we need to engage the culture because otherwise what happens is the only people engaging the culture, to be honest, are Christian influencers saying things that I personally disagree with almost 95 percent of the time."