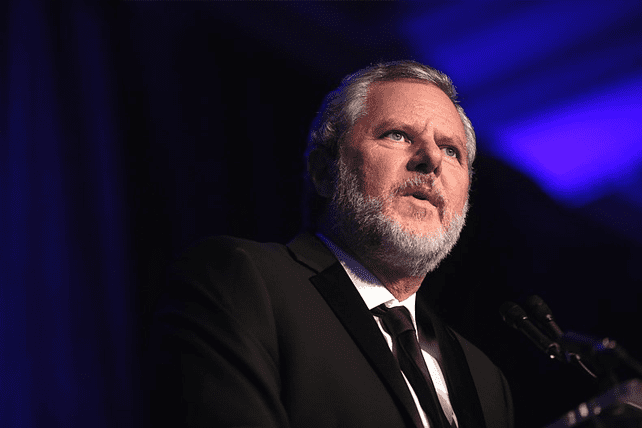 In a new profile in Vanity Fair magazine, former Liberty University President Jerry Falwell Jr. opens up about his famous family, his faith, and the tumultuous end of his career at the evangelical school his father founded. Speaking exclusively to reporter Gabriel Sherman, the 59-year-old Falwell provides his take on what became a sensational, highly publicized downfall.
Among the revelations is Falwell's admission that he's not "a religious person." People think that "because of my last name," he says, "but I'm not. My goal was to make them realize I was not my dad." Jerry Falwell Sr., co-founder of the Moral Majority, died in 2007, leaving his oldest son and namesake in charge of Liberty, based in Lynchburg, Virginia.
Jerry Falwell Jr. Recounts Lifetime of Family Drama
Recalling his youth, Falwell says his father didn't force him to attend church, didn't care that he listened to rock music, and didn't object when he didn't want to become a preacher. Falwell says his mother, Macel, preferred her son Jonathan, who could be controlled and went into ministry.
It was until college that Falwell became "a true Christian," he says, pointing to an influential apologetics class at Liberty. After law school, he planned to become a commercial real estate developer, but then his father sought his help to keep Liberty afloat financially. Falwell describes facing "so much pressure…to become somebody I wasn't" when he  succeeded his father.
RELATED: Liberty University Set to Approve Third-Party Sexual Abuse Investigation
Becki Falwell, married to Jerry Jr. since 1987, says, "We had to put on an act." The couple became "Christian celebrities overnight," as Sherman describes. Becki admits that loneliness led to her "biggest regret"—an affair with a Miami pool boy that made waves among evangelicals.
Falwell adamantly denies allegations that he watched or was involved in the extramarital relationship. He describes getting in shape to attract his wife back and claims that side effects from testosterone "made me more combative," leading to controversial moves.
Why Was Falwell 'Brazenly Courting Controversy'?
As his wife's lover threatened to go public with damaging details, Falwell "spent 2020 brazenly courting controversy—as if he was trying to get fired," writes Sherman. Falwell made conspiracy claims about COVID-19, tweeted an inflammatory photo about race, and posted a photo with his pants unzipped and his arm around a pregnant woman. (Falwell says it was from a costume party.)
Falwell also became a staunch supporter and defender of presidential candidate Donald Trump. After the 2016 election, Falwell says he turned down President Trump's offer to serve as U.S. Education Secretary.
After Liberty put Falwell on leave, he resigned in August 2020. He sued the school but later withdrew that lawsuit. Rancor continues, however. Falwell says the board's standards for him were unfair, especially because he wasn't a pastor.